After the Halving
It's been a few weeks since the halving and Bitcoin lives!
We remind our readers that we gave our analysis and predictions about the halving in January's report. Despite some dark prophecies circulating on the Internet at the time, we said that the effect on the market would be minimal and that it would strongly depend on the price of the Bitcoin at the moment it took place.
Indeed, nothing awful has happened, and the event passed quietly for the most part. The market is behaving as normal, and BTC is rising. Nevertheless, the halving has brought certain features to the market and changed some key performance statistics like hash rate, mempool queue, and other factors that are currently affecting the price.
Market statistics indicate stable interest and a rising inflow of money into crypto – this is to be expected with the massive liquidity injections being made by the Federal Reserve, the European Central Bank (ECB), and other central banks across the globe.
Let's see what has changed in the market's performance in May, how this impacts the price of BTC, and how reality corresponds to the predictions we made in January.
We start with a report from The Blockchain that Bitcoin's hash rate appears to have dropped approximately 16% after the halving since miners are now generating two-times less from each block. It is estimated that daily miner revenue has dropped about 44%, from $16.1 million to $9.0 million.
Older ASIC mining equipment like Antminer S9 is now unprofitable. In the past, Antminer S9s drove approximately 23% of the total hash rate. Some parts are likely to have been replaced, but the drop in hash rate suggests not many. Most of these machines have been taken offline. The new-gen devices, such as Antminer S17 and Whatsminer M30S, remain profitable for the most part.
The hash rate appears to be down from ~122 EH/s to ~102 EH/s. Of the four largest pools (F2Pool, Poolin, Antpool, BTC.com), Poolin seems to have lost the most (approximately 30%), while BTC.com appears to have lost the least, a little over 10%.
Due to the hash rate drop, more than 20 EH/s of computing power – the equivalent of around 1.5 million older-gen machines – has been switched off from Bitcoin since the halving. At the same time, mining difficulty has dropped by approximately 6%, according to Coindesk.
It is a well-known fact that mining business stands in the hands of mining pools; most of them are in China. According to BTC.com, three mining pools control approximately 52% of all mining power:
Two mining pools, AntPool and BTC.com, are members of Bitmain, the producer of ASICs devices. This means that two companies, Bitmain and F2Pool, are responsible for 52% of the total hash rate.
According to Coinshares, Chinese miners controlled 65% of all hash rate in 2019. Beyond the potential hazard of the "51% attack," the situation is unstable due to legislation in China. It is possible that the hash rate has dropped not only due to consolidation but also as a result of Chinese government activity, as we can see in the following reports:
Chinese Police Seize 4,000 Bitcoin Mining Computers Over Electricity Theft
Police in Jiangsu province confiscated around 4,000 computers used to mine Bitcoin after a local power company reported abnormal electricity usage, according to report in Xinhuanet.com.
BTCC founder: Chinese Communist Party Was Trying To Suppress The Bitcoin Price
China continues its anti-crypto stance, although it is unclear whether it is still actively trying to dampen Bitcoin's price. Last year, the People's Bank of China, Shanghai branch, released a public service announcement observing a resurgence in local crypto speculation through initial coin offerings, initial exchange offerings, and security token offerings.
The central bank asserted that the sale of these tokens for Bitcoin, Ethereum, and other cryptocurrency remain, "essentially unauthorized illegal public financing, suspected of illegal sale of tokens, illegal issuance of securities and illegal fund-raising." Cryptocurrencies have "seriously disrupted the economy and financial order," the central bank concluded.
At the same time, Bitmain's business license was taken away by Beijing Police and Bitmain is trying to pull strings through Party representatives to get it back.
Also, some Bitcoin mining farms in Sichuan have been reportedly turning off their mining machines due to electricity shortages. A local government notice released on May 18 indicates that the electricity load within the region increased by 22%; meanwhile, water flow in local rivers has decreased by 20%, resulting in a shortfall in hydroelectricity supply.
All this to say that a number of factors are contributing to the increase in volatility of hash rate and mempool overload, thereby impacting BTC's price.
As we said in January's report, we expect a consolidation in mining when smaller companies (with smaller profit margins) using older equipment are taken over, either freely or in a hostile manner, by larger ones. Of course, this process cannot impact the market; hash rate volatility is a normal process that should last a few months. Everyone understands that this is a temporary technical issue, and Chinese miners have positive sentiment – the rainy season provides cheap electricity, and the pandemic complicates the delivery of the newest ASICs in the EU and US. In fact, according to RockX.com 71% of Chinese miners believe that worst is already behind us:
More than 50% of the 42 Bitcoin miners that ROCKX.COM surveyed believe that BTC will most likely enter a bull market after the halving:
Putting together all these factors, it becomes clear why Bitcoin showed greater volatility and broke the correlation with the stock market immediately after the halving. This tendency will probably hold for some time. We will keep an eye on hash rate, mempool data, and difficulty – these numbers should not drop too much compared to the right-after-the-halving levels. The negative tendency indicates that there is increasing deterioration in the mining sphere.
The financial component of the Bitcoin market
On the financial side, the news is mostly optimistic. The data shows stable or rising interest, despite the Covid-19 collapse of the financial markets.
Genesis Has Originated More Than $2Bln Of New Loans In IQ 2020.
Genesis has had its biggest quarter ever in its digital-asset lending business in Q1. They added more than $2B in new originations, doubling the previous record of $1B set last quarter, and they are up 354% from the same quarter last year. Active Loans Outstanding touched $1B in mid-February before settling to $649M at the end of the quarter. Active Loans were up ~20% from the previous quarter despite a 50% intraday drawdown in the price of BTC in mid-March.
According to PWC's most recent report, crypto business shows good inflow and rise. Here are four major points mentioned:
It is estimated that the total AuM of crypto hedge funds globally increased to over US$2 billion in 2019 from US$1 billion the previous year.
The percentage of crypto hedge funds with an AuM of over US$20 million increased in 2019 from 19% to 35%.
Most investors (90%) in crypto hedge funds are either family offices (48%) or high net worth individuals (42%).
Almost two-thirds of crypto hedge funds have average ticket sizes below US$0.5
Greyscale Inc. also reports a rise of assets under management above $3Bln: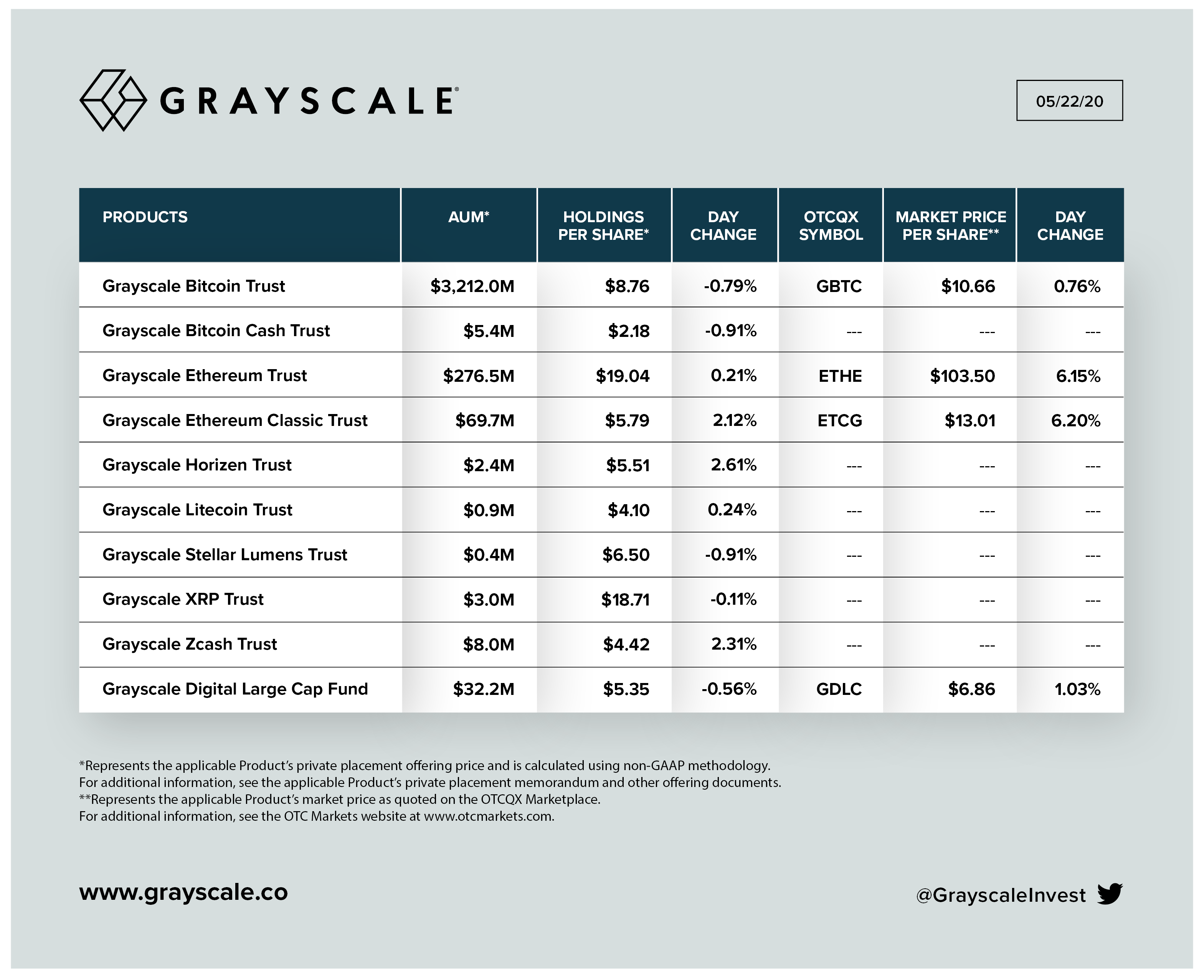 Market data shows a growing interest in BTC
Open interest on BTC Options at the CME now represents ~40% of the open interest on its BTC Futures contracts.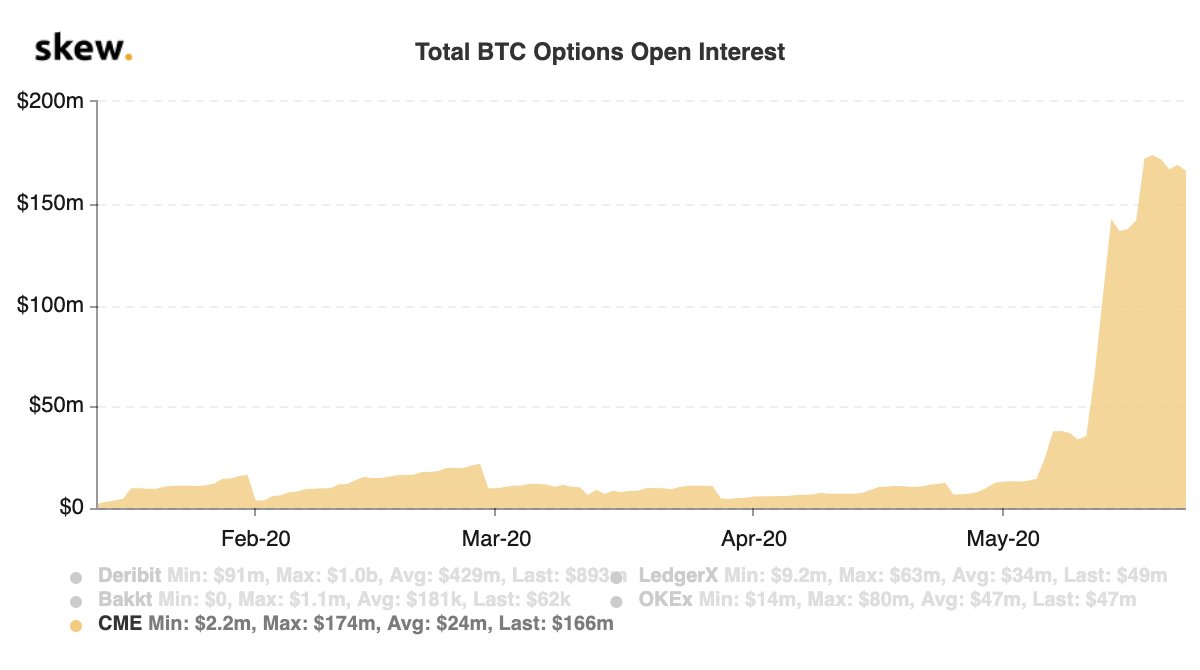 Deribit Bitcoin Options Open Interest Touching $1bln For The First Time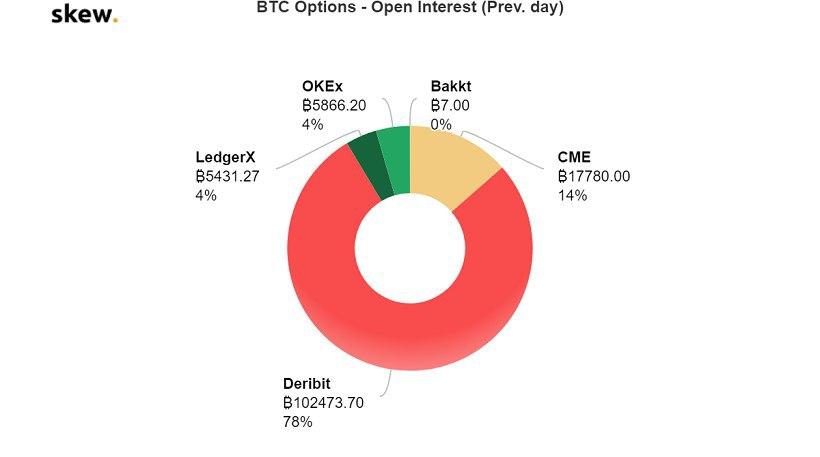 Bloomberg analyst, Mike McGlone, suggests that BTC should rise above the 10K area.
Key indicators support Bitcoin's ability to sustain above $10,000. Increasing addresses used, record-high futures open interest, and assets under management (AuM) of GBTC support the digital version of gold's value and the crypto's similar direction to the advancing metal.

In closing
Fundamental analysis shows that we have no reason to worry about the crypto market in general or BTC in particular. Mining needs an adjustment that should take a few months, probably when market volatility increases.
We should monitor hash rate, difficulty, and mempool load – as long as these three factors stand at the current levels, the long-term positive context should remain intact.
Market statistics show good interest among institutional investors. As we have underlined in multiple reports, this is the key for market growth. It seems that interest is rising as people start to treat cryptocurrencies as a rival/hedging to classic money on a background of harebrained central bank policy and uncontrolled liquidity injection.
Inflows to crypto hedge funds show stable growth across the board, as indicated by Greystone and PWC reports. The average value of the funds and their performance is also rising. Market data shows a several-fold increase of positions in BTC options and futures on exchange-traded markets – this is the traditional area of institutional investors.
An Off-Topic, Minor Piece Of Conspiracy Theory
I am skeptical but since there is a lot of noise around this topic on the Internet, I will touch on it to entertain the readers: Microsoft Inc. appears to have applied for a patent on a technology that would enable a person to earn coins from their own body activity if they execute special tasks set by the "master." Here are some details of the patent.
Publication number is WO/2020/060606. 
"Human body activity associated with a task provided to a user may be used in a mining process of a cryptocurrency system. A server may provide a task to a device of a user which is communicatively coupled to the server. A sensor communicatively coupled to or comprised in the device of the user may sense body activity of the user. Body activity data may be generated based on the sensed body activity of the user. The cryptocurrency system communicatively coupled to the device of the user may verify if the body activity data satisfies one or more conditions set by the cryptocurrency system, and award cryptocurrency to the user whose body activity data is verified."