Bitcoin Fundamental Briefing, August 2020
The calm before the storm?
August has been a relatively quiet month for Bitcoin and some traditional markets. The price challenged the 12K level at the beginning of the period but has remained within a tight range since then. Does this indicate a drop in investors' interest or energy building up for an explosion?
We're entering a tough period; many measures are being taken to stabilize the global economy, mostly through major Central Banks. Four Central Banks of developed countries (US, UK, EU, and Japan) have already printed approximately 20% Global GDP (roughly $15 trillion+) in just half a year, and are continuing to print. Additional supportive measures are expected. For example, this week, all eyes are on the Wyoming Fed meeting, where J. Powell should speak about the medium-term Fed fiscal policy and its inflation control measures. Yes, it stands below 2% but keeps rising – the five-year forward rates have been moving toward the 1.7% level since March 2020:
Gold shines like never before, reaching an all-time high, and with more potential on the horizon as investor sentiment suggests – this matches our assessment. Besides, in the coming months, the US will dive into turmoil before the election, whose outcome could seriously impact the financial markets, creating even more turbulence.
What place will Bitcoin take in this mess?
At the moment, we do not see significant shifts in the overall sentiment. The long-term, moderate bullish view still stands. In our reports of June and July, we discussed Bitcoin's fundamental valuation, fair value, and longer-term perspective. Those assessments are still valid and continue to support a positive medium-term outlook. August's most important events indicate that Bitcoin is holding its course, sustaining investors' interest, and attracting more assets.
Institutional investors are still hungry for cryptocurrencies
We have clear signs that investors have a healthy interest in cryptocurrencies. Many hedge funds report record inflows, and one of the leaders, Grayscale, also announced upcoming fund stock listings and the registration of new funds. As Medium.com reports:
"Now Publicly-Quoted: Grayscale Bitcoin Cash Trust & Grayscale Litecoin Trust"
Investors may now buy and sell freely tradeable Grayscale® Bitcoin Cash Trust shares and freely tradeable Grayscale® Litecoin Trust shares in the same manner as they would other registered securities under symbol: BCHG and symbol: LTCN, respectively."
The most recent data indicates that Grayscale has ~$ 6.1 billion under management, and this sum is rising weekly, according to Barry Sillbert, who reported a record $217 million inflow just in one week: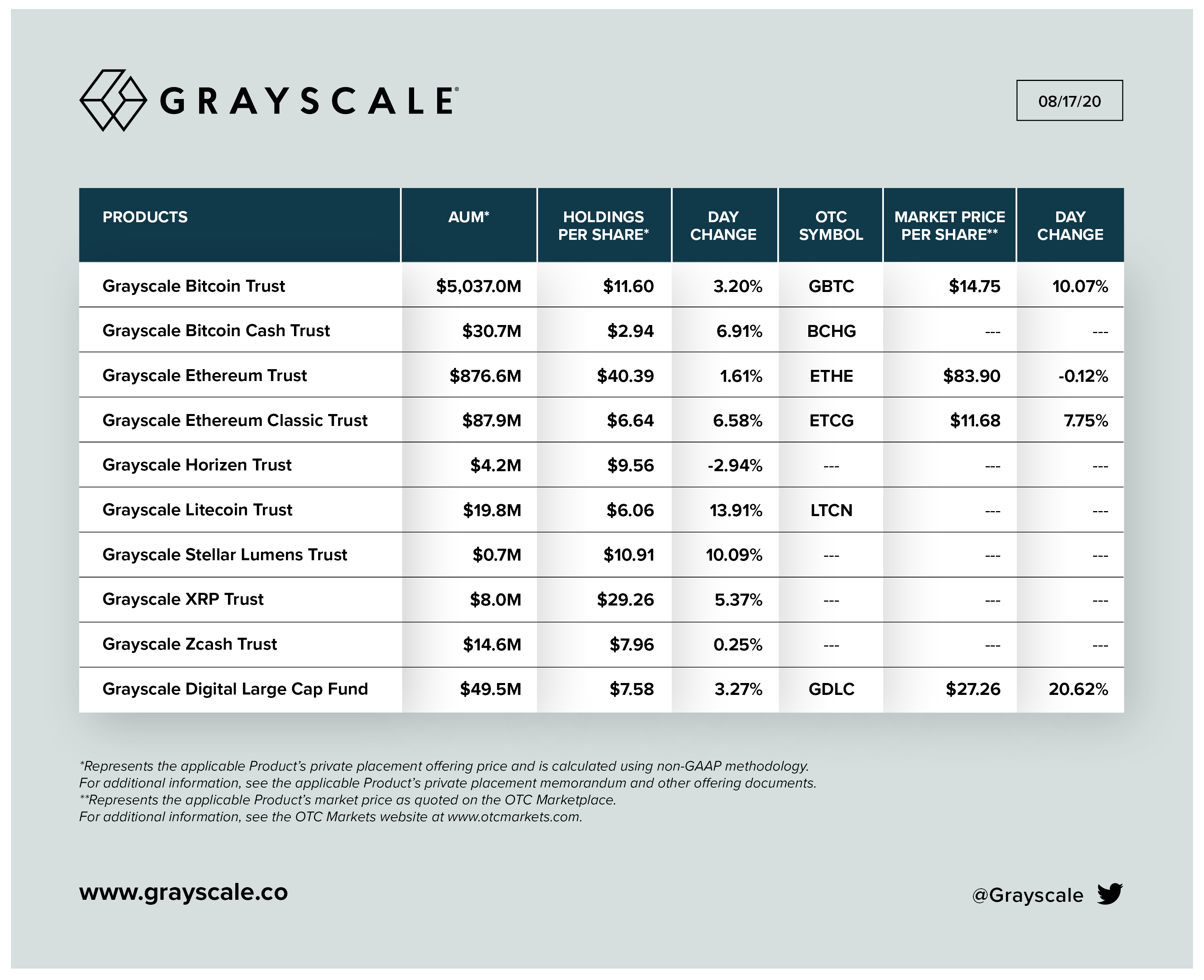 And this is not all. Grayscale Fund has launched TV ad campaigns on FOX, FOX Business, and CNBC. As they revealed to Forbes, they also filed with the SEC for Grayscale Ethereum Trust (ETHE) and plan to turn each of their 10 products – including XRP, Stellar Lumens, Ethereum Classic, Litecoin, Zcash, Bitcoin Cash, Zen, and a fund for large-cap cryptocurrencies – into SEC reporting companies. Managing director Michael Sonnenshein stated:
"The model we have is working. It also continues to hold our team to an even higher standard in how we operate our business and how we diligence our partners and can really serve as a model for other asset managers."
The most recent Grayscale quarterly report saw the trust growing at a rate of $57.8 million per week, reaching a record $751.1 million in the quarter. Other funds of a lower scale also report positive inflows. This shows that institutional investors maintain solid interest in crypto assets and keep investing in them.  In previous reports, we stated that Bloomberg analysts have suggested that – to satisfy the demand – all newly-mined Bitcoins will be bought by crypto hedge funds like Grayscale.
Forbes also reports that nearly 20 institutions have filed paperwork with the US Securities and Exchange Commission last quarter, showing investment in the Grayscale Bitcoin Trust (GBTC). While many are well-known mutual funds like Ark Invest with $4.5 billion in assets under management and Horizon Kinetic with $5.3 billion, according to their investor disclosure forms, the latest filings are also rife with relative newbies to the space, including Rothschild Investment Corporation, Addison Capital, and Corriente Advisor.
"It's very difficult to have a clean one-to-one signal on who's entering and exiting the space," says Ark Invest crypto analyst Yassine Elmandjra. "But there are some very interesting proxies that can gauge institutional interest."
Before moving our focus away from institutional investors, there are a few more things to consider. According to Chainalysis 2020 Geography of Cryptocurrency Report:
"North America's Cryptocurrency Market: Conservative Buy-and-Hold Strategy Dominates as Institutional Investors Move In"
"Institutional investors' interest in cryptocurrency appears to be growing based on recent reports. In Fidelity Investments'"June 2020 survey of nearly 800 institutional investors across the U.S. and Europe, 36% said they're currently invested in digital assets, while 60% said they believe digital assets have a place in their portfolio."
According to Arcane Research, "The search interest for 'buy crypto' is growing rapidly and has spiked this summer. We're now at the highest level since January 2018, according to data from Google Trends."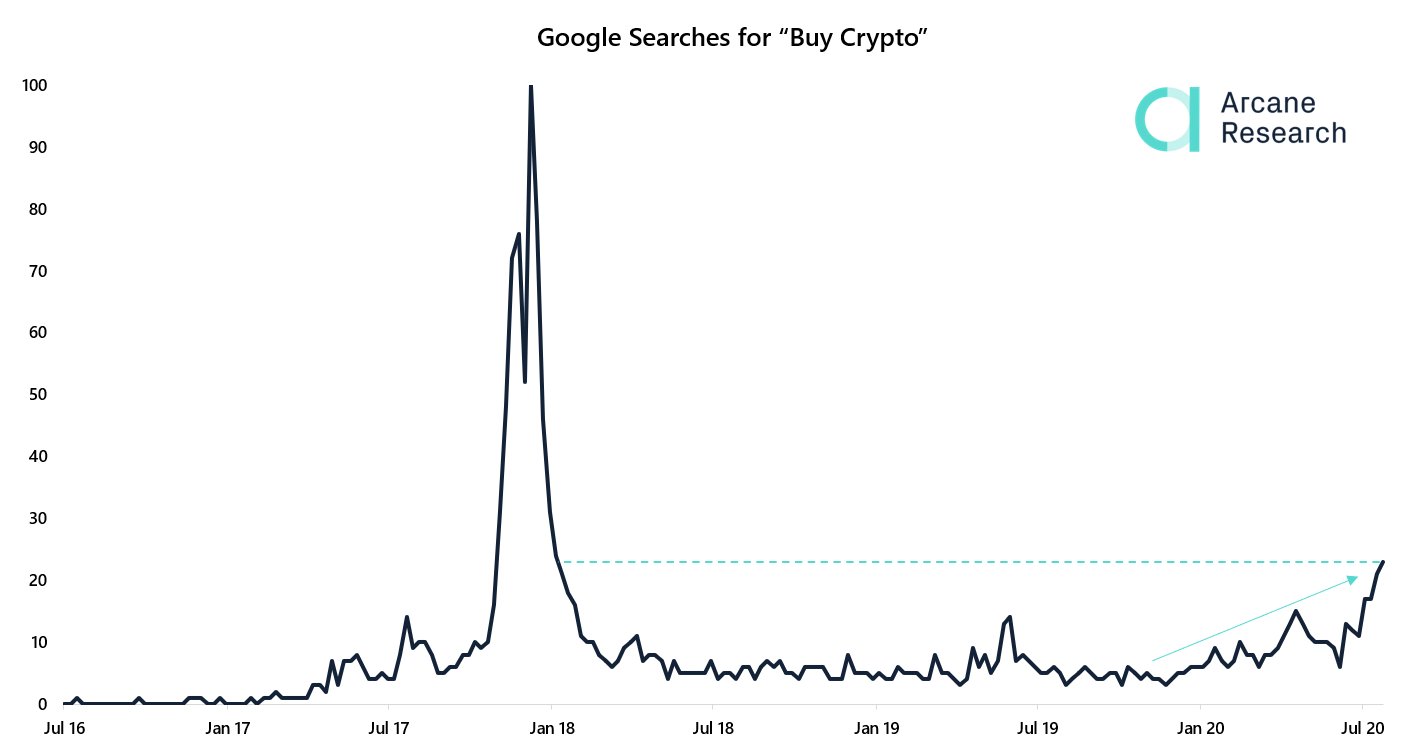 Bloomberg reports that analysis from JP Morgan concludes that interest in Bitcoin stands at a high level. Strategists led by Nikolaos Panigirtzoglou said:
"Investors generally are interested in alternative assets, but older ones are buying gold while younger ones like Bitcoin. Millennials are embracing stocks, particularly technology shares, whereas older individuals are selling equities. […] Gold and Bitcoin ETFs have been experiencing strong inflows over the past five months, as both old and young see the case for an "alternative" currency. […] The Bloomberg Dollar Spot Index has declined about 1.7% over the same period, fueling a debate about whether a prolonged period of dollar weakness is at hand."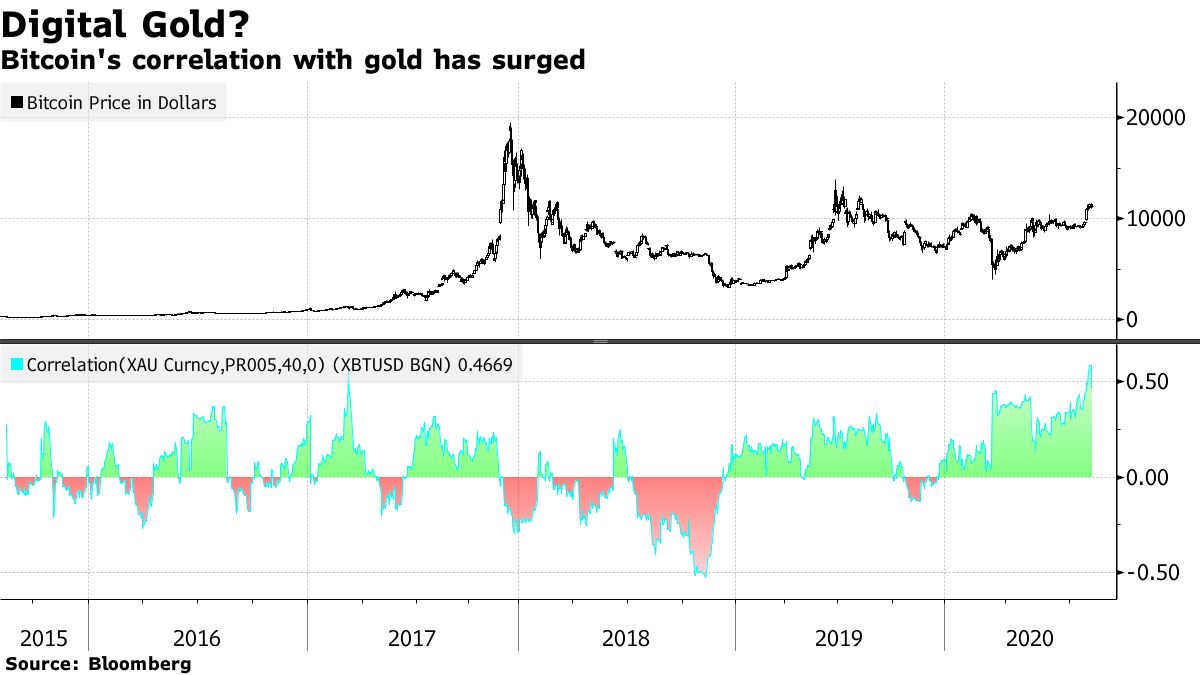 Finally, Goldman Sachs announces a Digital Assets Vice-President vacancy. Would you like to work in GS? Here is the posting:
"We are seeking an outstanding individual to play an integral part in defining and executing the firm's digital assets strategy, while providing ample opportunities to continue growing a broad skillset at the forefront of innovation in financial markets."
Market statistics
Overall, market stats are good. Hash rate rose after the halving and hardware upgrade by the largest mining pools to new ASICs models. Now, it stands near the all-time high, despite temporary pullback due to local flow in China:
Trading volumes, market capitalization, and open interest in derivative contracts are also moving in a positive direction. As Bitmex July statistics reports:
Top-Tier volumes increased by 42.1% to $334 billion.
On July 27, derivatives trading saw the highest volumes ($47 billion) in a day since the Bitcoin price crash on March 12.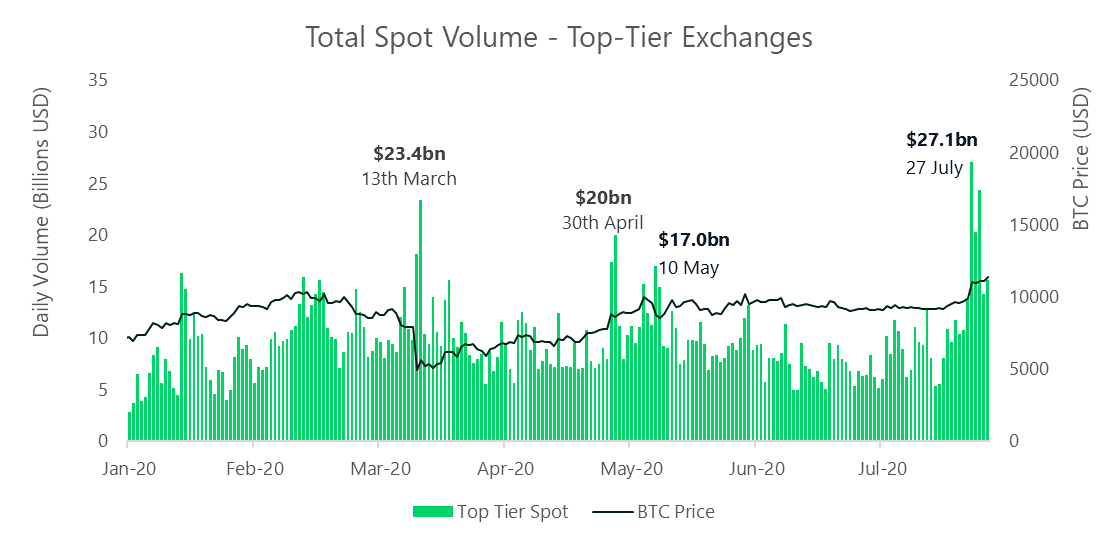 The total volume of derivative contracts (Open Interest) reached the new top at $5.8 billion in the middle of August.
Meanwhile, the trading volumes stand moderate, at about half of July's records.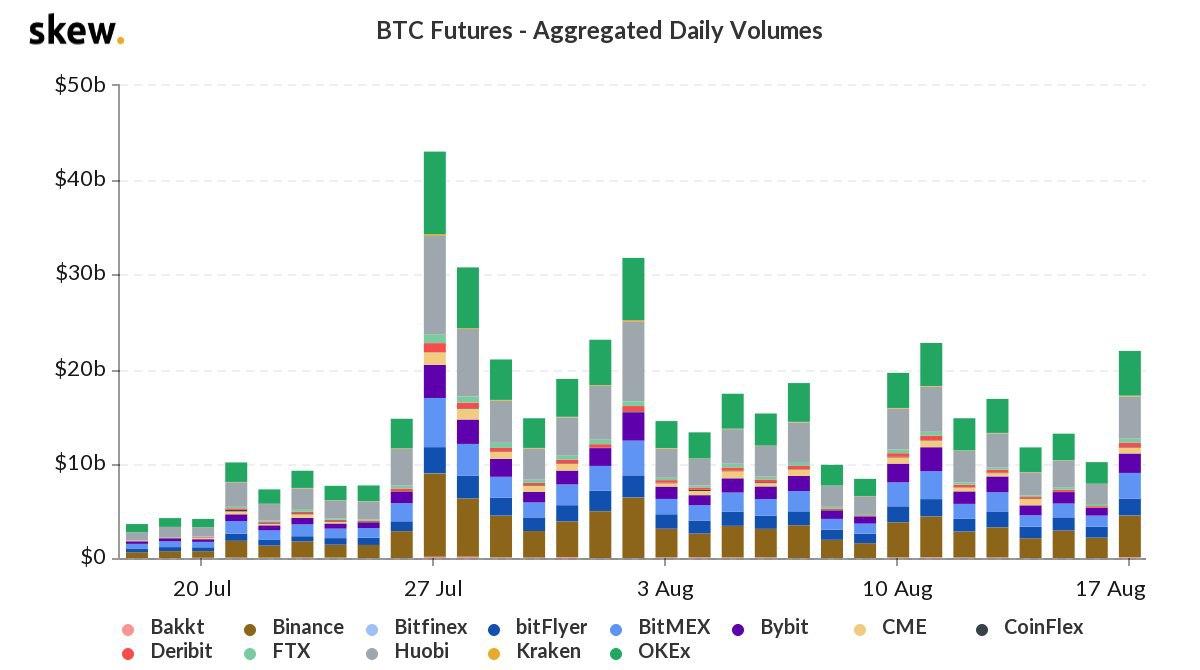 Where does Bitcoin go next?
In attempting to predict where the market is going, we need to pay attention to some important indicators, the first of which is the number of coins that investors keep in exchange accounts. Generally, when investors do not believe in certain coins, they keep larger deposits inside their exchange accounts so they can sell them quickly, if necessary. At this moment, the number of coins held in exchange accounts has dropped dramatically. As Coindesk reported on August 18:
"Bitcoin exchange reserves have fallen to a 21-month low, a possible sign investors are feeling bullish about the shape of the market:
Glassnode data shows that the number of Bitcoins held in exchange addresses fell by 0.83% to 2,610,278 BTCon Monday, the lowest level since Nov. 24, 2018.
As such, exchange balances are down 1.4% over the past week, and nearly 3% in the last month. Balances were down more than 11% from the March 13 high at press time.
eToro analyst Simon Peters told CoinDesk: "Lower BTC spot exchange balance indicates a current holding mentality among investors, I see this as being pretty bullish."
Glassnode has another important indicator called "Percent of UTXO's in profit." To put in simply, when the indicator moves above 95%, this suggests that the next rally on BTC should come within 2-3 months, sometimes even earlier. At the moment, this indicator stands around 97.6%.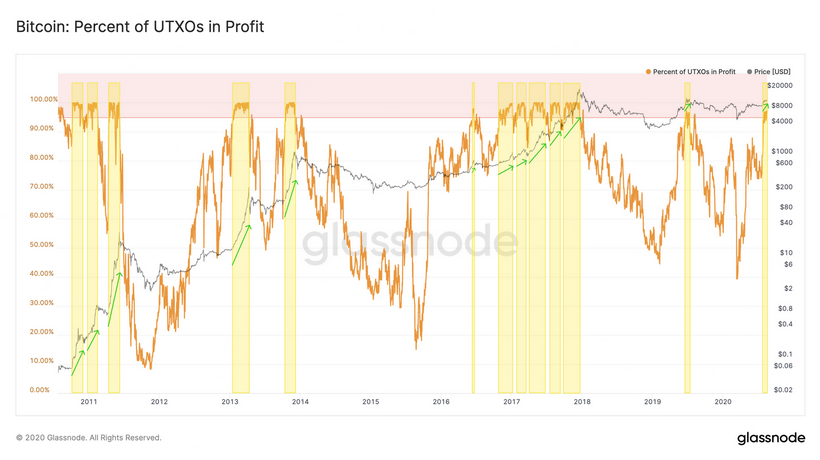 Finally, the Glassnode compass indicator stands in the bullish area for the 12th week in a row, also suggesting that a rally is coming.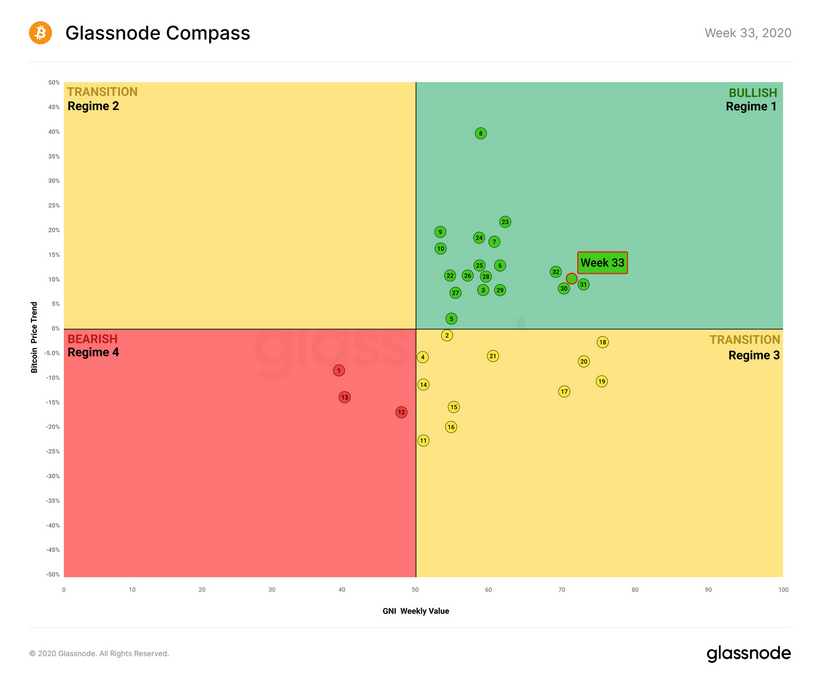 Bitfinex data shows that demand for margin leverage is increasing – this usually suggests rising interest since that leverage is used to finance new positions. On the chart below, we can see the overnight % rate-to-finance margin that continues to rise. Usually, it stands at 0.05% per day or around 1,5% monthly.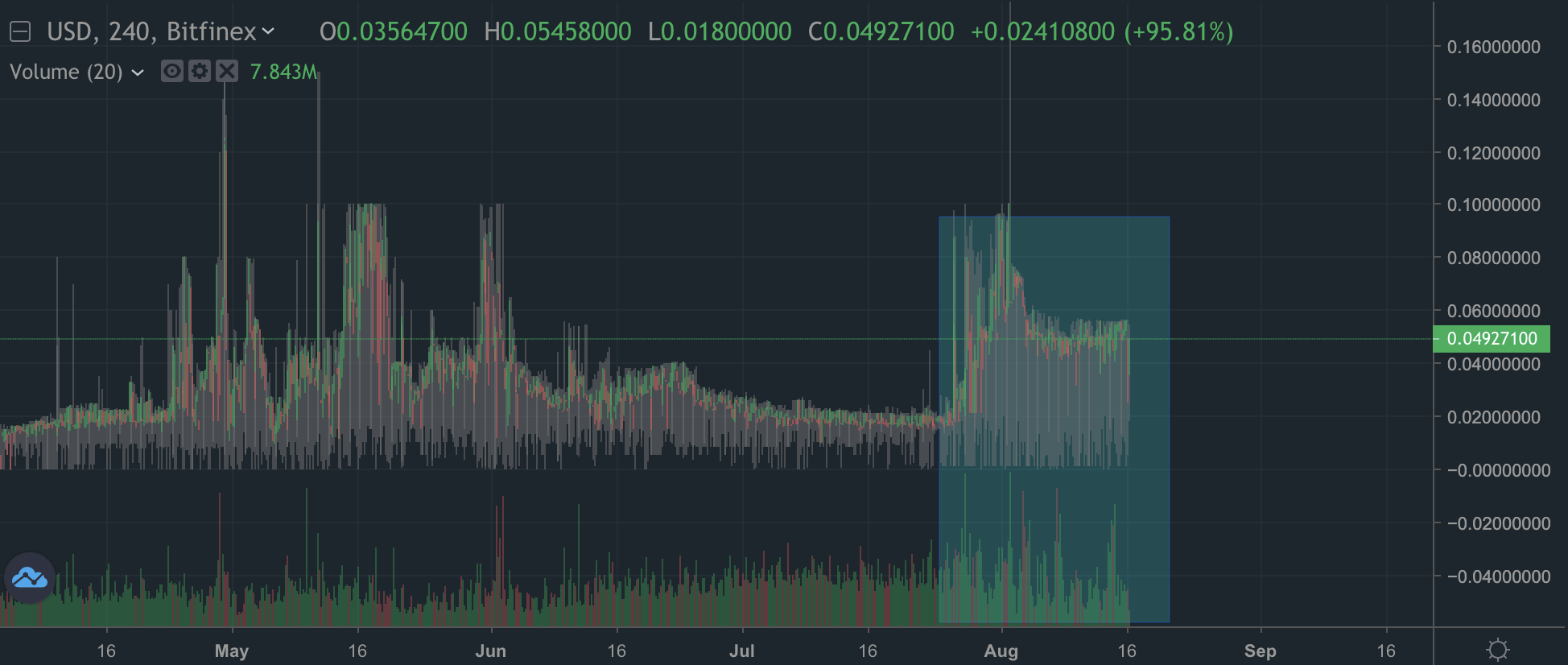 Other math models also predict an upside trend, but they are rather arguable. For example, the Stock-to-Flow (S2F) model predicts BTC price at $100K in the next year: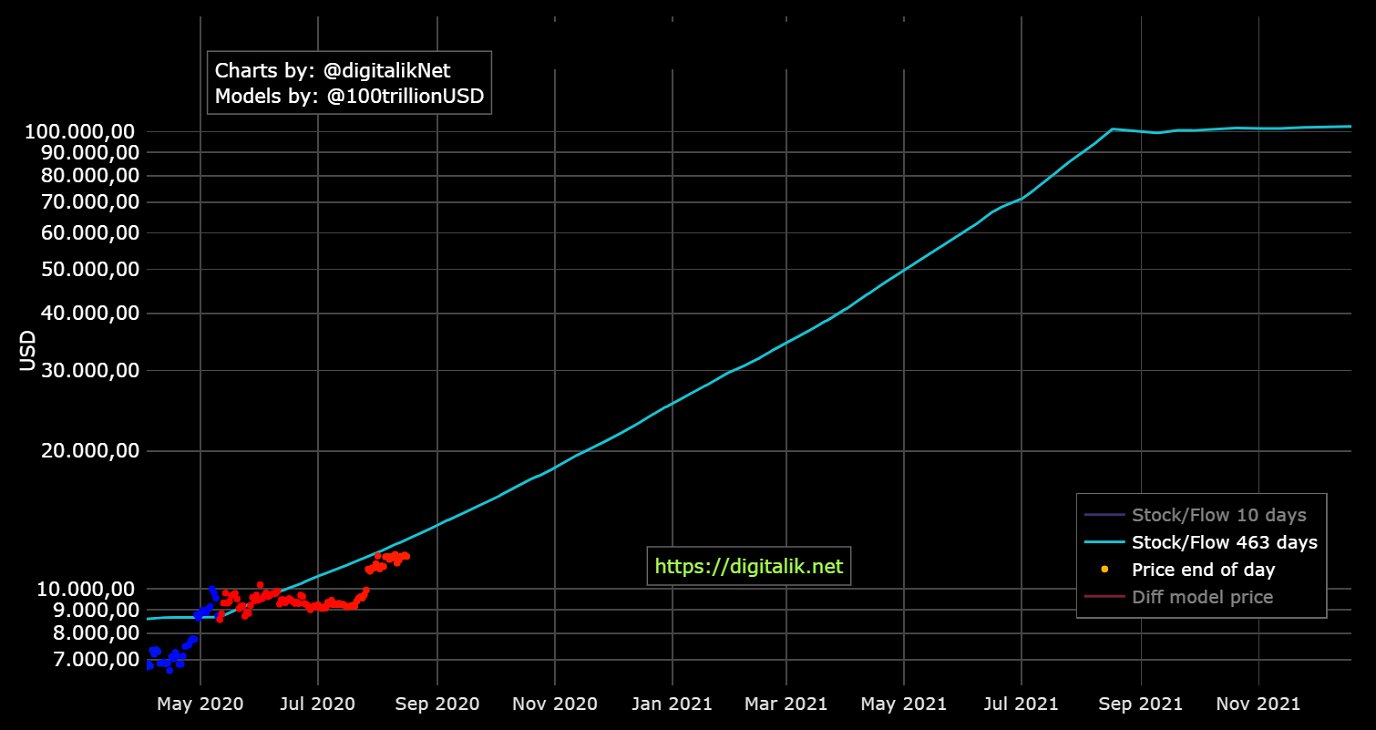 Kraken has also suggested that the price could rise by 50-200% within a few months. The analysts write:
"A number of signals point to possible higher volatility and higher prices in the months ahead.
Now that we are above $11,000, Bitcoin is trading in territory it has only been in for about 2.5% of its entire history. This may lead to higher volatility and higher prices as Bitcoin unlocks new levels of support and resistance and navigates uncharted waters.
On 12 separate occasions, Bitcoin's annualized volatility bottomed between 15% – 30% before climbing, on average, to 140%. Considering that, and the fact that Bitcoin set a 21-month volatility low of 23% on July 24, volatility could exceed 100% as Bitcoin rallies somewhere between +50% and +200% in the months ahead.
August is historically the third most volatile month on record, with a 9-year average annualized volatility of 88%. If the pattern holds, we can expect volatility to continue trending higher next month."
And the bottom line is…
Bitcoin's inability to maintain an upward action has no relation to its fundamentals, at least at the moment. No matter which component of fundamental analysis we consider, everything appears more or less optimistic, suggesting that investors are maintaining a positive perspective.
Yes, technically, in the short-term, there might be some weakness, as suggested by the CFTC COT report, but they mostly reflect speculators' positions. Fundamentally, at the moment, there is no significant reason to suggest that Bitcoin is losing momentum and that the upside trend will be broken. What this means is that any technical pullback should be treated mostly as temporary and looked at through the prism of a possible position accumulating for a longer-term perspective.
Author Profile
By day Sive Morten works for the large European bank. In that roll he evaluates the markets including currencies market managing bank risks and evaluating the bank portfolio.
At the Forex Peace Army, he is known as an author of Forex Military School, which quite unique free forex trading course. We do not know of any other free forex trading education covering such a broad spectrum of forex market concepts in such details while keeping it easy to understand and practically use.
As if that wasn't enough, he is the part of the Shoulders of Giants Program. He shares with his fellow traders at FPA his view and forcast of the Gold Market, Currency Market, and Crypto Market in form of weekly analytics and daily video updates.
*
Complete Forex Trading Course by Sive Morten >>
*
Sive Morten Forex , Gold , and Crypto Analysis >>
Info
680 Views
0 Comments