Slowly but stubbornly, we're coming to the end of 2020.  Just a few months ago, we discussed our long-term plan and the direction of Bitcoin's progress. All points that we've announced now are becoming a reality. Indeed, institutional investors' participation becomes something ordinary, while just a year ago, this was only rumors around it. Miners sphere has consolidated, and new hardware makes mining profitable. As these driving factors are still standing in the beginning stage and gradually spinning up,  we should look over the horizon and understand the next step. But now – let's enjoy a happy BTC performance and inspiring future. Our suggestion BTC is entering a major part of the upside spiral.
Recent events
..shows deeper integration of cryptocurrencies and classic business of institutional investors and transnational companies:
PayPal Launches New Service Enabling Users to Buy, Hold and Sell Cryptocurrency
Beginning in early 2021, PayPal customers will be able to use their cryptocurrency holdings as a funding source to pay at PayPal's 26 million merchants around the globe. Consumers will be able to instantly convert their selected cryptocurrency balance to fiat currency, with certainty of value and no incremental fees. PayPal merchants will have no additional integrations or fees, as all transactions will be settled with fiat currency at their current PayPal rates. In effect, cryptocurrency simply becomes another funding source inside the PayPal digital wallet, adding enhanced utility to cryptocurrency holders, while addressing previous concerns surrounding volatility, cost and speed of cryptocurrency-based transactions.
ECB said that crypto-EUR could appear within 4 years
In general, C. Lagarde said that If the solution turns out to be cheaper, faster, and safer for users, we should look into it. If it promotes monetary sovereignty, more autonomy for the Eurozone, we must study it. If it simplifies cross-border payments, we should study it,
At the same time the development of the CBDC will take a long time, she said. As an example, Lagarde cited the People's Bank of China, which has been working on the digital yuan for several years.
Skybridge Capital filed an amendment with the SEC, allowing their $3.6 billion fund to start investing in Bitcoin.
Billionaire and founder of the Grupo Salinas companies Ricardo Salinas Pliego announced that he invested 10% of his liquid portfolio in bitcoin.
Pliego is ranked second in Forbes' ranking of Mexico's billionaires. The publication estimated his fortune at $ 11.7 billion.
Thai SEC revises net capital regulations
The Securities and Exchange Commission (SEC) has revised its net capital rules to bolster securities firms and derivatives brokers' liquidity management, support soaring trading of Thai bourses and accommodate digital asset trading. The revised NC rules are expected to help free up liquidity for securities firms that plan to enter new business such as open digital or cryptocurrency exchanges.
Bitcoin Surge: 73% of Millionaires Already Invested or Plan to Invest in Cryptocurrencies
The survey, carried out by deVere Group, one of the world's largest independent financial advisory organisations, finds that 73% of poll participants are now already invested in or will make investments in digital currencies, such as Bitcoin, Ethereum and XRP, before the end of 2022.
Of the survey, deVere Group CEO and founder, Nigel Green, who launched the pioneering deVere Crypto app in 2018, said:
"The price of Bitcoin is up 125% year-to-date, making it once again one of the best-performing assets of the year.  As the survey shows, this impressive performance is drawing the attention of wealthy investors who increasingly understand that digital currencies are the future of money and they don't want to be left in the past."
JPMorgan: Institutional investors begin to treat bitcoin as an alternative to gold
"Earlier, we noted the significant potential for bitcoin for long-term growth if it competes more intensively with gold as an 'alternative' currency. The market capitalization of the first cryptocurrency must grow tenfold to match private sector investment in gold via ETFs or bullion and coins, "JPMorgan said.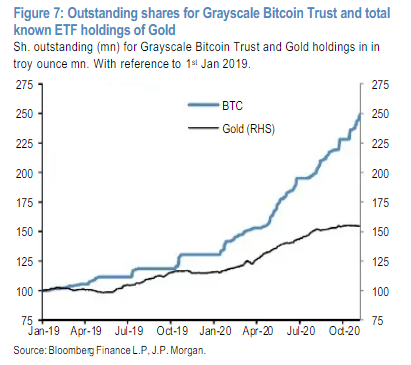 Fidelity protects Bitcoin features and argue with its criticism, contesting with:
Bitcoin is too volatile to be a store of value.
Bitcoin has failed as a means of payment.
Bitcoin is wasteful.
Bitcoin is used for illicit activity.
Bitcoin is not backed by anything.
Bitcoin will be replaced by a competitor.
When this comes from Fidelity, this is solid argument for investors that just planning investments in BTC. This material proves aggressive policy of Institutional investors on cryptocurrency market
Bulk preorders for the latest bitcoin ASIC miners are sold out until next spring
Bulk preorders for the most powerful bitcoin mining hardware from major manufacturers are already queued up until May next year, suggesting an increasing level of institutionalized demand for such equipment.
Bitmain's official website shows that preorders for its flagship AntMiner S19 Pro, S19 and T19 products will have to wait until May 2021 for delivery, which means the preorders with shipments before that have already been sold out at the bitcoin hardware giant.
BlackRock: Bitcoin could replace Gold
BlackRock CIO of Fixed Income Rick Rieder talking about Bitcoin replacing gold on CNBC this morning. He noted that bitcoin is a reliable mechanism that is "much more functional" than a gold bar. 
"I think the cryptocurrency is here to stay," Reeder said in a conversation with CNBC.
Assets of institutional investors at Coinbase Custody Rise to $ 20 Billion
"We are facing an explosive growth in interest. I became part of the team in April, when institutional assets were $ 6 billion. Today it is more than $ 20 billion. More than a threefold increase. Now the account in the inflow of funds, mainly in bitcoin, has already gone into the billions, "
Tejpaul told a recent conversation with the consulting firm Heidrick & Struggles. Also he made a comment concerning Paypal:
"For large banks, hedge funds and charitable foundations that have remained on the sidelines, the arrival of PayPal is kind of a signal. It provokes a second wave of adoption of digital currencies by institutional investors, "Tejpol said.
Grayscale: bitcoin is the next step in the evolution of money
"I think they understand today that buying Bitcoin and putting it in their portfolio is meant to be a store of value, inflation hedge, a digital gold, a digital form of money that is much better suited to the digital world we live in today versus historical stores of value like gold which would have been certainly much more applicable to a world characterized by physical exchanges. They view it as one of the most important next steps in the evolution of money and what constitutes a store of value" –  Michael Sonnenshein, managing director of Grayscale Investments, the largest digital currency asset manager.
Deutsche Bank: "There Is Increasing Demand To Use Bitcoin Where Gold Was Used To Hedge Dollar Risk And Inflation"
Bitcoin is up another +3% overnight and seems to be creating momentum of its own. It's up over 70% over the last six weeks as more and more investors are starting to see it emerge as a credible asset to invest in.
There also seems to be an increasing demand to use Bitcoin where Gold used to be used to hedge Dollar risk, inflation and other things.
Market statistics
Glassnode: Bitcoin miners' revenue is back at pre-halving levels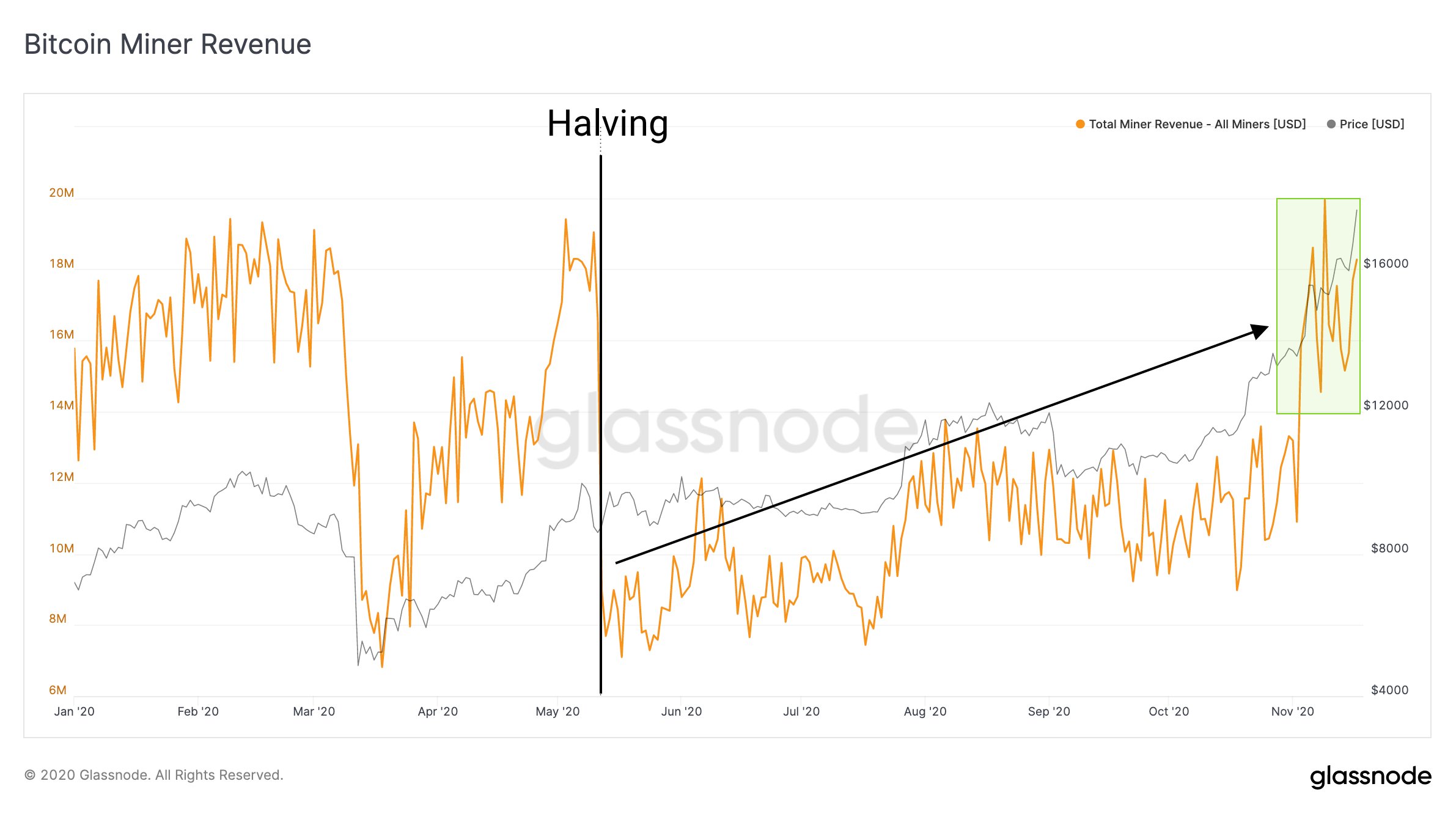 CME's open interest is ready to surpass $1 billion in open interest .
There are now more than 100 total reportable traders that held at least 25 BTC worth of open interest. Not a small feat. And OI now 50% higher than BitMEX's BTC OI.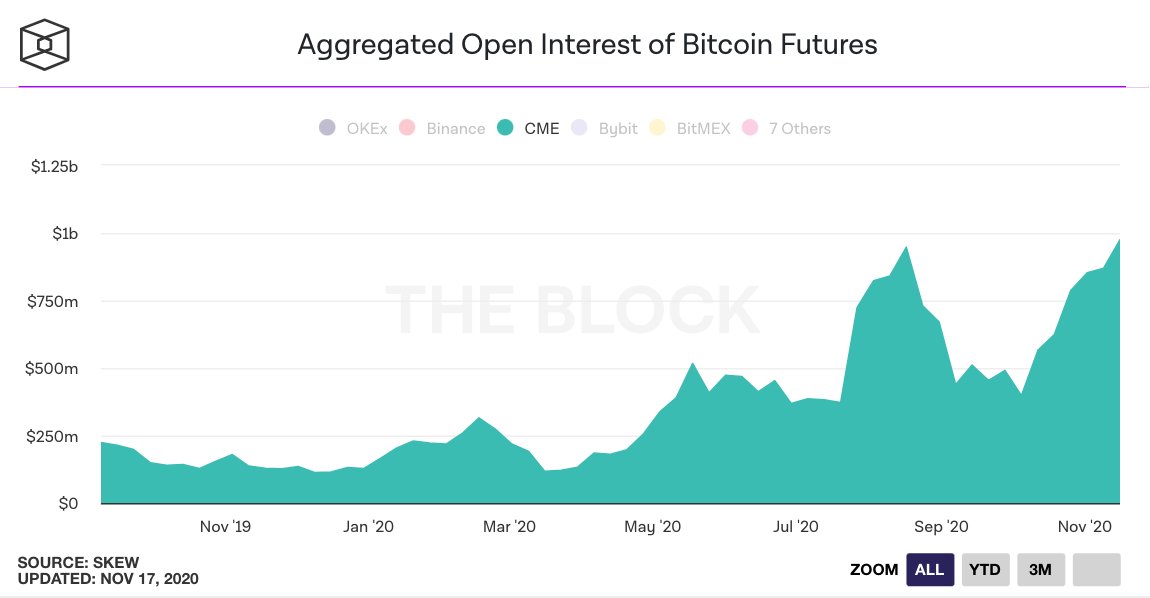 Bitcoin Whales' Ownership Concentration Is Rising During Rally
A few large holders commonly referred to as whales continue to own most Bitcoin. About 2% of the anonymous ownership accounts that can be tracked on the cryptocurrency's blockchain control 95% of the digital asset, according to researcher Flipside Crypto.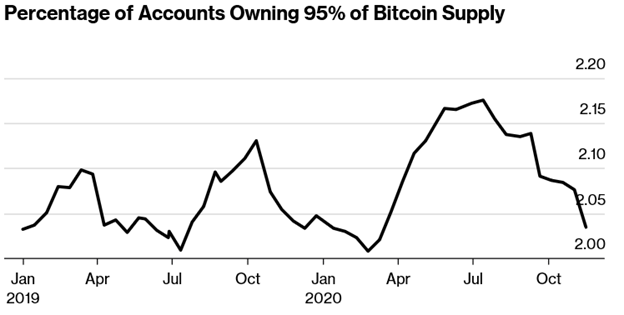 A large holder can have an outsized impact on the still highly illiquid market. One trade can often move the coin's price significantly. That continues to leave small investors susceptible to wild price swings. In the end, Bitcoin still appears to be the domain of the big fish.
Bitcoin Price forecasts
So, this is the most exciting part of our research. Here we share with you different opinions on the perspective price of BTC. It is incredible that just a few months, maybe a year ago, we mostly considered individual traders of BTC fans, CEO of some crypto hedge funds, etc. But take a look at what we have now – Citi Group, JP Morgan, the whales of financial words…
$20,000 Bitcoin Is Primary Hurdle Toward $1 Trillion Market Cap —
Bloomberg analysts, Mike McGlone suggests, that the Bitcoin is the digital version of gold but with more-limited supply and a history of adding zeros, appears to be in an early price-discovery stage and may simply continue its ascent in 2021. Mainstream adoption is rising..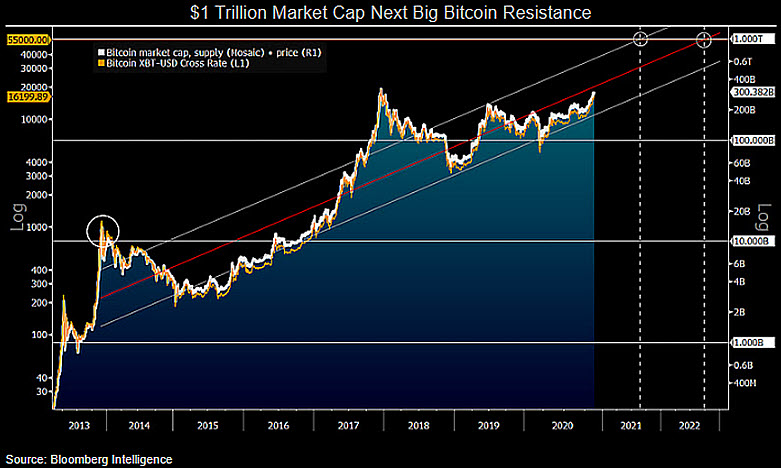 He suppose $1Trln BTC capitalization, which means triple price growth from current level by the end of 2021
CitiFX – Bitcoin is XXI century gold
Citi releases the report, dedicated to BTC perspective, providing also technical view on the market, suggesting that coin could reach 318K level in 2022:
Citi shows harmonic patterns that market repeats again and again, making conclusion that we in the beginning of new strong trend.
PayPal and Cash App are already buying more than 100% of all newly-issued bitcoins.
When PayPal went live, volume started exploding. The increase in itBit volume implies that within four weeks of going live, PayPal is already buying almost 70% of the new supply of bitcoins.
A divided U.S. government — Democratic White House, Republican Senate — would likely result in more pressure on the Federal Reserve to expand their balance sheet. This money printing will inflate the price of things whose quantity cannot be "eased" — like gold, bitcoin, real assets, and even equities.
And the Oscar goes to…
So we do not need to be prophets to suggest a further expansion of the crypto markets and the rising price of Bitcoin. Our previous year suggestion that Bitcoin will rise on demand from hungry Institutional investors that do not know where to put newly printed money. As the have almost unlimited fiat cash that will be more and more increased with new Central Banks stimulus measures – Bitcoin also will rise. This is just demand/supply law. Even now we see two different tendencies.
First is – those who have bitcoin turn to holding it, rather than spending or trading. This is great confirmation of rising value. When you have something valuable – you store it.
Bitcoin's price is rising because demand for Bitcoin is increasing at a time when there's relatively few Bitcoin available to buy. While the total supply of Bitcoin grows every day as more is mined, the actual amount available to buy depends on whether holders want to sell or trade it. At Chainalysis, we quantify this by tracking the amount of Bitcoin held in wallets that send less than 25% of Bitcoin they've ever received, which we refer to as illiquid or investor-held Bitcoin, versus Bitcoin held in wallets that send more than that, which we refer to as liquid or trader-held Bitcoin. The chart below shows how the amount of Bitcoin in each category has changed since January 2017 alongside price, thereby capturing the market dynamics of both the current price surge and that of 2017.
Second – we are in the era of Institutional demand for Bitcoin. The ChainAnalysis again confirms our long-term view:
The key difference lies in who's buying Bitcoin and why. In 2017, most demand came from individual, retail investors buying with their own personal funds, many of whom had varying degrees of experience with and knowledge of cryptocurrency. As anyone who reads the news can tell you, 2020 is the year institutional dollars began flowing into Bitcoin. From high-profile investors like hedge fund manager Paul Tudor Jones, who compared buying Bitcoin to investing early in Apple or Google, to corporations like Square, which invested $50 million or 1% of its total assets in Bitcoin, mainstream companies and financial institutions are turning to Bitcoin. 
The institutional move into cryptocurrency appears to be driven by a desire to hedge against macroeconomic uncertainty, which of course hasn't been in short supply this year. Jones himself put it well, saying, "Back in March and April, it became really apparent, given the monetary policy that was being pursued by the Fed, the incredible quantitative easing they were doing and other central banks were doing, that we were in an unprecedented time…one had to begin to think about how you defend yourself against inflation."
The data bears out this institutional investment story as well. For one, we're seeing an increase in high value transfers sent from exchanges in 2020.
What does it mean? It means that Bitcoin is cheap and stands near the bottom from the perspective of 1-2 years. As a conservative forecast from Bloomberg, around 55-60K$ per coin, as Timothy Peterson forecast of 100K by 2024 and Citi forecast with 318K does not seem impossible. Just think about it – current BTC capitalization stands around $300Bln. Second question – how much money Institutional investors, hedge funds have? 300 Bln, 1000 Bln, Thousands of billions? Only BlackRock alone has assets under management of more than $7 Trln. Right. Even a small part of an investment by every fund could raise BTC capitalization a few times. But when BTC starts rising too fast and too far, what they're going to do? They turn to the most competitive and valuable altcoins and ETH is the first candidate for this role.
Thus, as the next step of long-term strategy, while everybody is running to BTC, maybe it makes sense to consider valuable altcoins that now you could buy cheaper and without any rush. We need to wait when they catch up with BTC, but whether we hurry up somewhere?