The previous couple of months were outstanding for Bitcoin and other cryptocurrencies. In fact, March is the first month when investors finally could take a breath and look around. As the bitcoin rush calms down a bit, it is time to take a fresh look at the situation and make suggestions on the future. The most interesting question right now is whether BTC still has strong demand and any negative factors that could hurt bullish sentiment and stable demand for cryptocurrency.
Market overview shows that sentiment is positive
Recent events shows that as individuals as institutional investors do not loose interest to Bitcoin. It seems that currently, after strong rally market needs time to accept the new reality and price levels that have been formed.
Besides, investment banks try to set fundamental background on Bitcoin value and make decision on further steps on the market, as many of them, including whales, start thinking about entry on cryptocurrency market.
Fidelity send to the SEC Bitcoin ETF registration form
Here is extraction from prospectus:
The Wise Origin Bitcoin Trust is an exchange-traded fund that issues common shares of beneficial interest that trade on the Exchange. The Trust's investment objective is to seek to track the performance of bitcoin, as measured by the performance of the Fidelity Bitcoin Index PR, adjusted for the Trust's expenses and other liabilities.
Goldman Sachs launches structured notes with relation to performance of Bitcoin 
The Notes' return depends on ARK Innovation ETF performance that has, among other assets, Bitcoins in portfolio. The notional value of notes is $15.72 Mln.
Grayscale just launched five new digital currency investment trusts:  –  Grayscale® Basic Attention Token Trust
– Grayscale® Chainlink Trust
– Grayscale® Decentraland Trust
– Grayscale® Filecoin Trust
– Grayscale® Livepeer Trust
Assets under Grayscale management exceeds $45 Bln
Morgan Stanley becomes the first big U.S. bank to offer its wealthy clients access to bitcoin funds
The investment bank, a giant in wealth management with $4 trillion in client assets, told its financial advisors in an internal memo that it is launching access to three funds that enable ownership of bitcoin, according to people with direct knowledge of the matter.
And even for those accredited U.S. investors with brokerage accounts and enough assets to qualify, Morgan Stanley is limiting bitcoin investments to as much as 2.5% of their total net worth, said the people.
Two of the funds on offer are from Galaxy Digital, a crypto firm founded by Mike Novogratz, while the third is a joint effort from asset manager FS Investments and bitcoin company NYDIG.
The Galaxy Bitcoin Fund LP and FS NYDIG Select Fund have minimum investments of $25,000, while the Galaxy Institutional Bitcoin Fund LP has a $5 million minimum.
Morgan Stanley participated in the '2 trillion ransom acquisition of Bithumb
According to the publication, the bank intercepted negotiations on the purchase of a stake in the platform operator, which was led by the gaming corporation Nexon Group. The company previously denied plans to acquire the exchange.
According to Naver, the deal is in the region of 300-500 billion won (~ $ 265- $ 440 million). The market valuation of Bithumb is expected to be 2 trillion won (~ $ 1.77 billion). After purchasing a stake, Morgan Stanley is ready to invest further in the platform.
Altshuler Shaham invests $100m in world's biggest bitcoin fund
Israeli investment house Altshuler Shaham has recently benefitted from significant exposure to bitcoin investment due to the cryptocurrency market boom. "Globes" has learned that Altshuler Shaham invested about $100 million in Grayscale Bitcoin Trust (GBTC), the world's largest bitcoin fund, at the end of 2020.
Altshuler Shaham, one of the biggest investment houses in Israel, managed assets worth NIS 171 billion at the end of January 2021, in long-term savings in pension and provident funds.
CI Galaxy Bitcoin ETF to Launch on the TSX on March 9
Canadian securities regulators have issued a receipt for the final prospectus of the CI Galaxy Bitcoin ETF.  "The CI Galaxy Bitcoin ETF offers investors a secure and convenient means of holding bitcoin in their portfolio," said Kurt MacAlpine, Chief Executive Officer of CI Financial, the parent company of the CI GAM.
In the past month Grayscale Trust has purchased over 174,000 Litecoin.
This is approx 80% of all Litecoin mined last month…
Goldman Sachs restarts cryptocurrency desk amid bitcoin boom
Goldman Sachs Group Inc has restarted its cryptocurrency trading desk and will begin dealing bitcoin futures and non-deliverable forwards for clients, a person familiar with the matter said. The team will sit within the U.S. bank's Global Markets division, the person said.
As part of this work, the bank is also exploring the potential for a bitcoin exchange traded fund and has issued a request for information to explore digital asset custody, the source said.
Peter Schiff said that his son went all capital into Bitcoin
My son Spencer Schiff went all in on Bitcoin on the last drop below $50k. 100% of his portfolio is now in Bitcoin. He sold the last of his silver stocks to raise the cash. If my own son is this brainwashed imagine how vulnerable most kids are. He's HODLing to infinity or bust.
Nearly 10% of the $380 billion in stimulus checks may be used to buy bitcoin and stocks: survey
A new survey out of Mizuho Securities on Monday estimates that 10%, or nearly $40 billion of the $380 billion in direct stimulus checks, may be used to purchase bitcoin and stocks. Mizuho managing director Dan Dolev and his team surveyed approximately 235 individuals with less than $150,000 of household income. Of that, about 200 said they expect to receive the third round of direct stimulus payments in the coming days.
Nearly 2-in-5 check recipients expect to use some portion of their checks to invest. And stimulus check recipients prefer bitcoin over stocks, according to the survey.
"The survey predicts that bitcoin will account for 60% of total incremental investment spend. We calculate it could add as much as 2-3% to bitcoin's current $1.1t trillion market value," Dolev writes.
Survey: 85% of Wealth Managers Who Hold Bitcoin Plan to Buy More
The survey, shared with Decrypt by London-based crypto fund Nickel Digital Asset Management, recorded the answers in January 2021 of 50 wealth managers and 50 institutional investors—with a collective $110 billion under management—based in Germany, Switzerland, the US, and the UK.
A majority of the surveyed investors said that they expect Bitcoin and other cryptocurrencies to grow significantly in valuation over the next few years. 21% of investors said Bitcoin would continue to rise dramatically in 2021, while 56% said it would increase only slightly.
Small part of Bitcoins in investment portfolios improve risk/reward ratio
Nickel fund said a 1-3% allocation to Bitcoin within a well-diversified portfolio over an eight-year period (Dec 2012—Dec 2020) showed the asset worked as an uncorrelated, diversified instrument, as part of a bigger portfolio.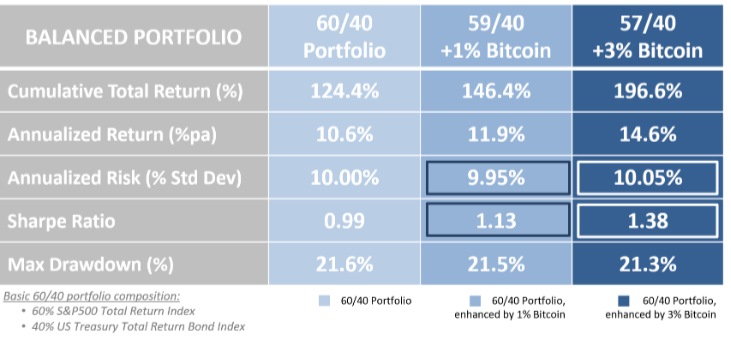 "Such allocation offered an important return contribution, without imposing a negative impact on the risk characteristics," the fund concluded.
MicroStrategy has purchased an additional ~205 bitcoins for ~$10.0 million in cash at an average price of ~$48,888 per bitcoin.
As of 3/5/2021, we hold ~91,064 bitcoins acquired for ~$2.196 billion at an average price of ~$24,119 per bitcoin.
Regulation
Dalio sees 'good probability' bitcoin gets outlawed
Billionaire investor Ray Dalio, the founder of the $150 billion hedge fund Bridgewater Associates — the world's largest — made a case that there's a "good probability" bitcoin could be outlawed, similar to when the U.S. government made it illegal to privately own gold.
"Every country treasures its monopoly on controlling the supply and demand. They don't want other monies to be operating or competing, because things can get out of control. So I think that it would be very likely that you will have it under a certain set of circumstances outlawed the way gold was outlawed," Dalio told.
Federal Reserve's Digital Dollar Push Worries Wall Street
Banks, credit card companies and digital payments processors are nervously watching the push to create an electronic alternative to the paper bills Americans carry in their wallets, or what some call a digital dollar and others call a Fedcoin.
As soon as July, officials at the Federal Reserve Bank of Boston and the Massachusetts Institute of Technology, which have been developing prototypes for a digital dollar platform, plan to unveil their research, said James Cunha, who leads the project for the Boston Fed.
Binance Probed by CFTC Over Whether U.S. Residents Traded
The CFTC is seeking to determine whether Binance, which isn't registered with the agency, permitted U.S. residents to buy and sell derivatives that the regulator polices, said the people, who asked not to be identified because the probe is confidential. Binance, which has an office in Singapore but says it lacks a single corporate headquarters, hasn't been accused of misconduct and the investigation may not lead to an enforcement action.
Mining
Bitfarms announces purchase agreement for 48,000 MicroBT miners and named TSXV's top 50 listing
The production capability of Bitfarms mining fleet is expected to grow from over 1.0 EH at the present time to 3.0 EH by the end of 2021 and then to exceed 8.0 EH by the end of 2022.
Bitcoin and Ethereum miners both earned $ 1.36 billion in February
Bitcoin and Ethereum miners' revenues reached parity in February, renewing all-time highs at $ 1.36 billion. The only difference was in the share of commissions and awards received for the block found. In the second largest cryptocurrency in terms of capitalization, this ratio was 52.9% against 47.1%, while in bitcoin – 13.7% against 86.3%.
The9 Implementated the Framework Agreement to Purchase the Second Batch of Whats Miner Bitcoin Mining Machines, Increasing the Hash Rate by 40PH/S
This second batch of purchase consists of 482WhatsMiner M31S+ machines.
The hash rate of each of these WhatsMiner M31S+ machines is approximately80-86TH/s, with the power consumption of approximately 38-42W/T. These WhatsMiner M31S+machines had been delivered and The9's Bitcoin hash rate will be increased by approximately40 PH/s.
The9 and MicroBT signed a strategic cooperation framework agreement in February this year. The9 will purchase a total of 5,000 WhatsMiner bitcoin mining machines from MicroBT within one year. This second batch of WhatsMiner bitcoin mining machines further increased The9'sBitcoin hash rate.
Bitcoin price forecasts and expectations
Wealth managers still in crypto 'education mode', Fidelity says
While some advisors and investment firms managing the fortunes of wealthy people have grown "sophisticated" and "comfortable" with cryptocurrencies, most are still getting to grips with the technology, Mike Durbin said.
"They know what they are doing, and more importantly their end investor base also knows what they are doing – but the vast majority are still in the education mode," he added in an interview at Reuters Digital Assets Week.
Durbin's comments give a snapshot of interest in cryptocurrencies at Boston-based Fidelity, whose $9.8 trillion in customer assets as of Dec. 31 make it one of the world's biggest investment managers, amid heightened interest in digital assets.
Interest in bitcoin and other digital assets would likely grow as "alternative investments" – which often includes real estate, private equity and hedge funds – increase in popularity, Durbin said. I think that the growth rate of bitcoin or digital assets will follow in that wake of broader alternative investments. There's still work to be done there to help advisors understand portfolio construction with these kinds of expressions."
Bank of America analysts slam Bitcoin: Buying 1 BTC is 'like owning 60 cars'
The research note — which echoes the hardline stance taken against crypto by traditional financial institutions in years past — is in stark contrast to other major banks such as Goldman Sachs and JPMorgan, which have since embraced Bitcoin as an asset.
As such, the main portfolio argument for holding Bitcoin is not diversification, stable returns, or inflation protection, but rather sheer price appreciation, a factor that depends on Bitcoin demand outpacing supply."
BoA calculated that a $1 billion investment in Bitcoin produces the same carbon emissions as 1.2 million petrol powered cars over the course of a year.
Last week marked a new record in terms of weekly liquidations of longs, and the funding rates have now been in neutral territory for a week. Is bitcoin getting ready for a new move?
Bitcoin's February correction lowered the SOPR indicator into the buy zone. The last time such values were observed in September last year, before the wave of growth to an all-time high, analysts said Arcane.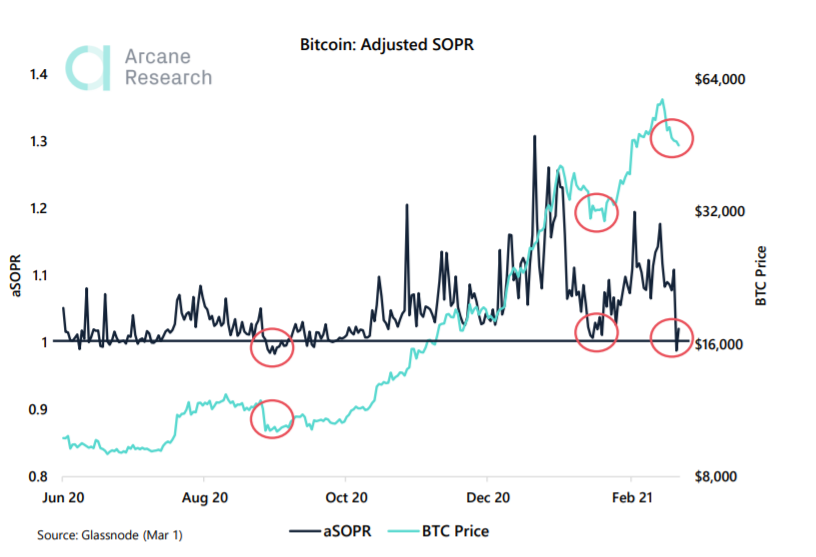 aSOPR fell below 1 for the first time since September 2020. Historically, this metric has indicated favorable opportunities for buying bitcoin in terms of reward / risk ratio.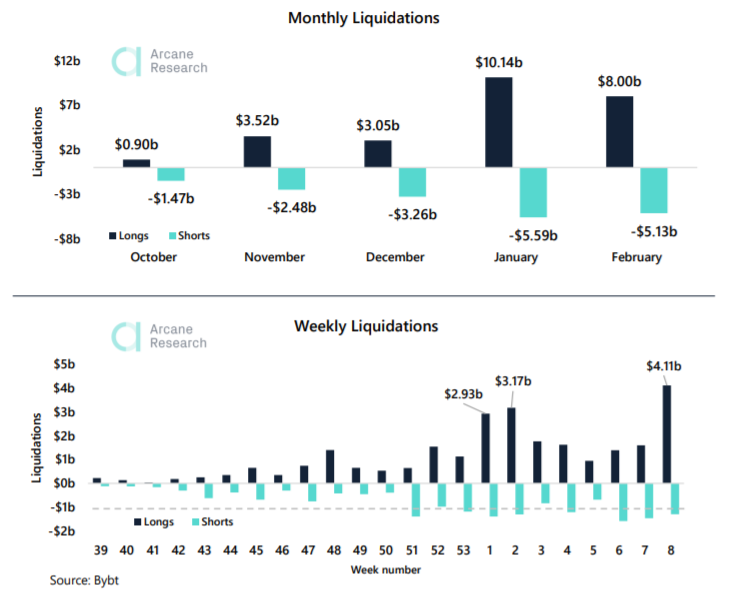 Correction of bitcoin in February at daily closing prices was 19.1%. This is less than in January (25.2%). The weekly volume of liquidations of long positions in Bitcoin futures set a new record ($ 4.1 billion).
Arcane Research analysts pointed out the importance of the $ 52,000 level for the short-term outlook for the price of the first cryptocurrency. Fixation above this mark will create the preconditions for a return to the historical maximum. Failure – will prolong "range trading" with the risk of a return to recent lows.
J.P. Morgan Securities' Joyce Chang is seeing a new dynamic unfolding in the cryptocurrency space: a battle between banks and fintech.
"We've seen demand from millennials," Chang said. "We've seen demand from institutional investors for the first time, as well."
In a research note last week, Chang wrote along with colleague Amy Ho that investors could consider owning up to 1% of bitcoin in a multi asset portfolio.
"We also are concerned about valuations here," said Chang. "We've seen that just $11 billion of inflows since last September, which is a high number for bitcoin, has increased the market cap by $700 billion."
Goldman Sachs crypto survey shows 22% of respondents expect $100,000-plus bitcoin
The New York-based firm, which operates a digital asset business within its markets division, surveyed a mere 280 clients on the topic of digital assets. The results—which were shared Thursday by Goldman Sachs' Max Milton—show that 40% have exposure to cryptocurrencies.
Meanwhile, more than 60% of those respondents expect their digital asset holdings to increase over the next 1 to 2 years. About 20% of respondents expect bitcoin to trade above $100,000 within the next 12 months.
Goldman Sachs customers' demand for bitcoin rising: COO
"Client demand is rising," Waldron said. "We are regulated on what we can do. We continue to evaluate it … and engage on it."
The bank recently restarted its cryptocurrency trading desk and this month it started dealing bitcoin futures and non-deliverable forwards for clients.
Goldman is also exploring a bitcoin exchange traded fund and has issued a request for information to explore digital asset custody.
Waldron said Goldman can custody digital assets "but can't principle" them, and is in talks with regulators and central banks about how banks should be regulated when dealing with digital money.
Tone Vays forecasts 70K rally and deep drop then
MRI has once again perfectly timed the Bitcoin Top a few hours ago… Looking for a 1-4 day correction then a push above $70k in line with the Weekly MRI.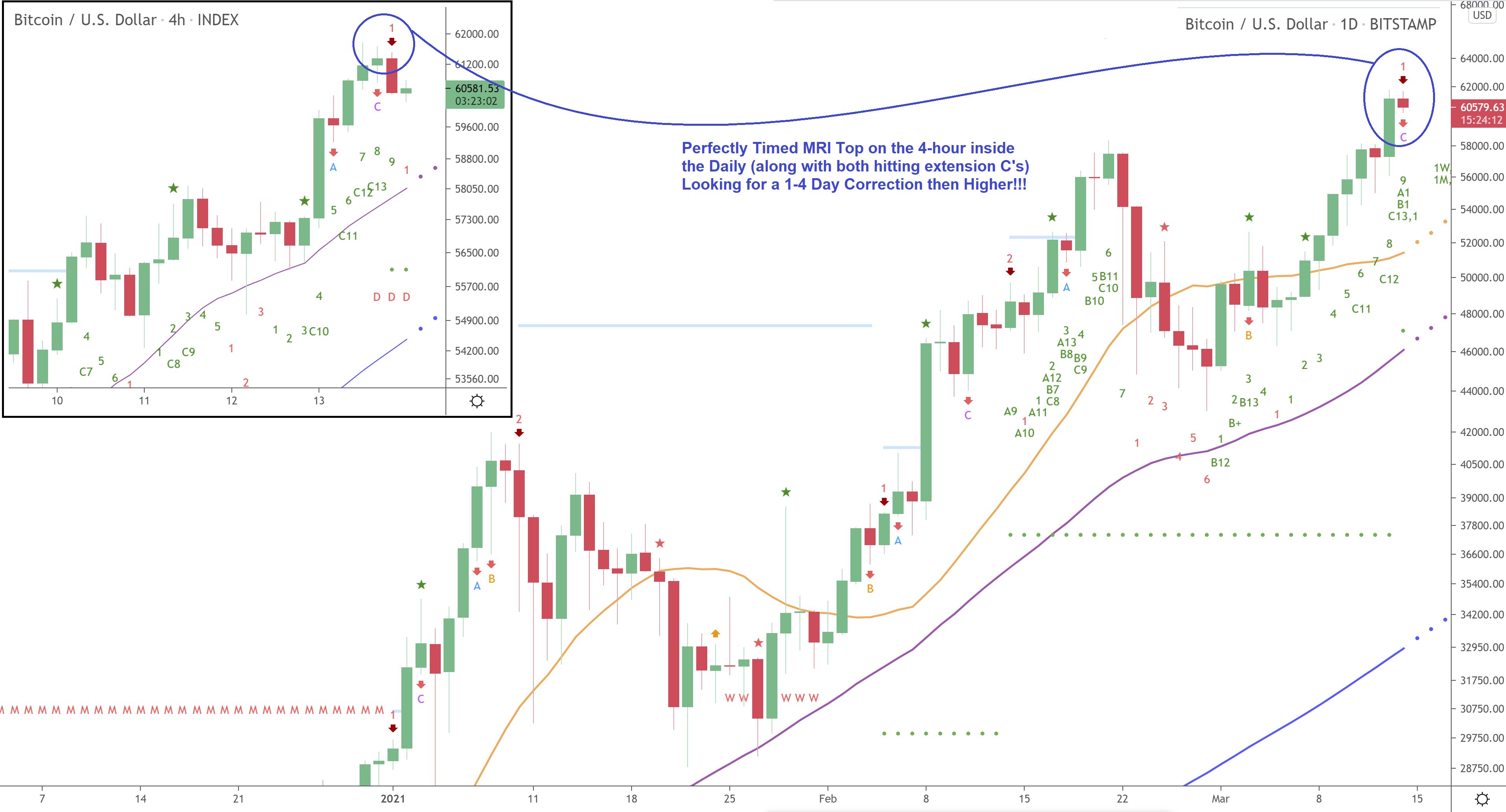 Retail Bitcoin Traders Rival Wall Street Buyers as Mania Builds
The cryptocurrency market's little guys are going toe-to-toe with the big banks as Bitcoin continues to surge to new highs, data compiled by JPMorgan Chase & Co. suggest.
Using Square and Paypal data as a proxy, retail investors have purchased over 187,000 Bitcoins so far this quarter, compared to roughly 205,000 last quarter, strategists including Nikolaos Panigirtzoglou wrote in a Friday report.
Meanwhile, institutions have bought about 173,000 of the world's largest cryptocurrency over that time frame — as gathered by Bitcoin futures, fund flows and company announcements — after buying nearly 307,000 in the last quarter of 2020.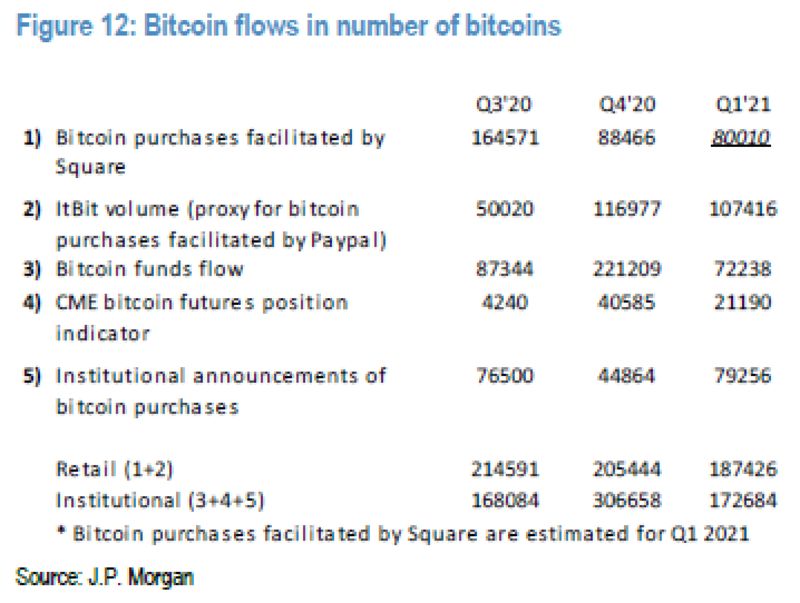 How to buy BTC at the global bottoms:
1. BTC drops hard over -30%
2. All Exchange Inflow Mean (MA7) spikes over 2.5 BTC
3. The indicator cools down
4. ALL-IN BTC
About this indicator: "Whales tend to realize profits when retail investors are active in the market. … Bitcoin price is likely to go up when whales are active in the market in the long term. In the huge dip, whales deposit BTC to exchanges to make Bitcoins ready to sell immediately, but they eventually don't sell BTC.
Bitcoin in Transition to Risk-Off Reserve Asset: BI Commodity
Well on its way to becoming a global digital reserve asset, a maturation leap in 2021 may be transitioning Bitcoin toward a risk-off asset, in our view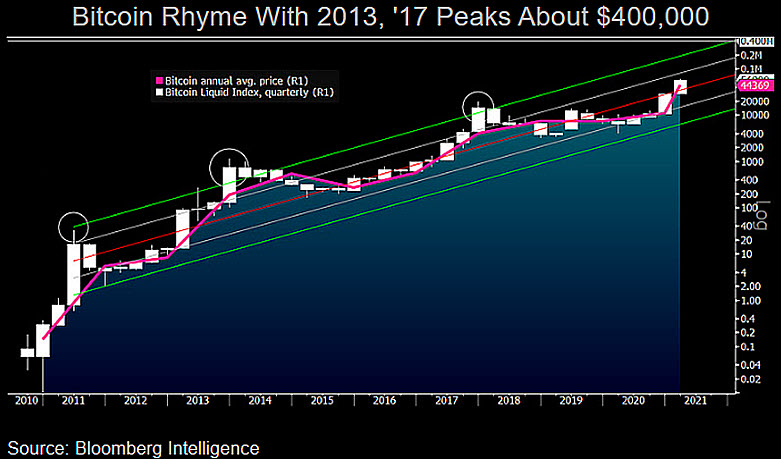 Conclusion
So, we've taken a look at the market's major driving components – overall sentiment and forecasts of future price. And none of these topics shows something criminal.
Sentiment shows that although investors have taken the pause, trying to take a breath and accommodate new price reality – we do not see any sell-off, speeches that bitcoin is overvalued, etc. Big companies are building plans to increase participation in cryptocurrencies, expecting more interest from as institutional as individual investors.
Among significant factors that should support BTC in the medium term, we see a big US stimulus. In fact, recent Biden's 1.9Trln pack is not the first one, and a previously considerable amount of stimulus was invested in the stock market. Now situation could repeat, and Bitcoin gets its piece of the stimulus pie.
Second, we think major supportive factors for now – Bitcoin mathematically improves investment portfolio statistics with a 1-3% share. Not only Nickel fund shows calculations, but JP Morgan tells the same. This feature comes from unique BTC characteristics – huge volatility and performance and low correlation with traditional assets. Thus, if we suggest a massive 1% investment by different funds across the Globe, it could double the Bitcoin price in a medium-term perspective, so that 100K level doesn't seem unbelievable anymore.
Once at the beginning of 2020, we've forecasted massive enter of institutional investors on the market that have exploded demand – 2021 and 2022 years by our view should become the time, when institutional investors revalue portfolios and potential BTC role as the asset that improves portfolios.
Regarding bitcoin's current valuation, analysts mostly keep a positive outlook and expect further appreciation in the medium-term, although overall demand could be shyer.
Thus, the current fundamental picture stands positive in the mid-term perspective, suggesting stable demand for the coin and an upside tendency with a moderate pace.