GLITTERING FUTURE
October indeed seems one of the most successful months for cryptocurrencies. That's because not only the price dynamic but due to the background that stands around. Certainly, Jerome Powell has calmed down crypto society that the Fed and provision authorities have no aim to strangle the market's birth. The next significant event was an approvement and trade launching of the first bitcoin ETF on CME.  With optimistic investors' moods and growing investments – expert forecasts also start to change positively. 
OCTOBER EVENTS
J. Powell: No plan to ban crypto
The Federal Reserve System (FRS) has no plans to ban cryptocurrencies, but some digital assets need to be included in the legal framework. The head of the agency Jerome Powell said this during a speech at the Financial Services Committee of the House of Representatives of the US Congress.
Over the first two days of trading, BITO attracted $589 million in new money. 
Tuesday, October 19, marked the official launch of the new ProShares Bitcoin Strategy ETF (BITO). The long-awaited cryptocurrency ETF marks the first of its kind to list on a U.S. exchange. BITO was listed on the New York Stock Exchange (NYSE) following a 75-day review by the SEC. Several other similar futures-based products are due to launch over the next few weeks.
The CEO of ProShares, Michael Sapir, emphasized this milestone by saying, "1993 is remembered for the first equity ETF, 2002 for the first bond ETF, and 2004 for the first gold ETF. 2021 will be remembered for the first cryptocurrency-linked ETF."
 Lipper Alternative Managed Futures Funds realized their third-largest weekly inflow of all time and the largest total since July 2016. 
Fixed-income titan Pimco is starting to embrace cryptocurrencies, CIO says
Fixed-income giant Pimco has dabbled in cryptocurrencies and plans to gradually invest more in digital assets that have the potential to disrupt the financial industry, according to chief investment officer Daniel Ivascyn.
"Now we're looking at potentially trading certain cryptocurrencies as part of our trend-following strategies or quant-oriented strategies, then doing more work on the fundamental side," Ivascyn said in an interview with CNBC's Leslie Picker for Delivering Alpha. "So this will be a gradual process where we spent a lot of time on the internal diligence side speaking to investors. And we'll take baby steps in an area that's rapidly growing."

"We're trading from a relative value perspective. So we're not taking directional exposure, but we're looking to take advantage of mispricings between the cash product, popular trust that trades on the exchange, and then the futures," Ivascyn said. "So that was a starting point for us in a very narrow segment of our business."
Valkyrie Secures Go-Ahead for Bitcoin Futures ETF
Valkyrie Investments' bitcoin futures exchange-traded fund (ETF) has won the blessing of the U.S. Securities and Exchange Commission.
The new ETF is set to start trading on Friday, after the bitcoin-linked fund cleared the final regulatory hurdles, a Valkyrie spokesperson said. 
Valkyrie is only the third investment company – and the first crypto-native – to receive the Securities and Exchange Commission's greenlight. The ProShares Bitcoin Strategy ETF (stock ticker BITO) launched Tuesday. VanEck's own bitcoin futures ETF offering is slated to trade starting early next week.
The Central Bank of France tests CBDC
The Central Bank of France and a group of dealers conducted 500 transactions in the primary and secondary markets of government bonds using the national digital currency (CBDC) over ten months.
As part of the experiment, the private Hyperledger Fabric blockchain was used. The volume of transactions was not disclosed.
Participants in the pilot project led by Euroclear clearing house include BNP Paribas, Credit Agricole CIB, HSBC, Societe Generale, and the French Ministry of Economy and Finance.
Iran has permitted licensed cryptocurrency mining machines
Iran has permitted licensed cryptocurrency mining machines to resume operations after a three-month lull ordered by former President Hassan Rouhani.
Around seven percent of the world, cryptocurrency mining by powerful computers that use a lot of electricity is estimated to be taking place in Iran.
Walmart Has Quietly Begun Hosting Bitcoin ATMs
Walmart, the world's largest company by revenue, is letting customers buy bitcoin at dozens of its U.S. stores.
Shoppers can purchase the cryptocurrency at Coinstar machines inside the retailer's cavernous big box stores. A CoinDesk editor verified that the service works, buying a small amount of BTC at a Pennsylvania Walmart on Oct. 12.
"Coinstar, in partnership with Coinme, has launched a pilot that allows its customers to use cash to purchase bitcoin," Walmart communications director Molly Blakeman told CoinDesk via email. "There are 200 Coinstar kiosks located inside Walmart stores across the United States that are part of this pilot."
Grayscale Investments close to filing application for spot bitcoin ETF
Grayscale Investments plans on filing an application to convert the world's biggest bitcoin fund into a spot ETF early next week, according to a person with knowledge of the matter.
The application begins a 75-day review period, said the source, who declined to be identified because the New York-based company hasn't disclosed its plans.
MARKET SENTIMENT
Greed & Fear Index Stands high
Fear and Greed Index from Alternative. me stands at high "greed levels, suggesting a high level of bullish sentiment on the market.
At the same time, it is not at All-time highs thatlets the market keep going higher:
Yet Binance's spot cryptocurrency trading volumes totaled $789 billion in September versus $454 billion in July, data from UK researcher CryptoCompare compiled for Reuters showed, with Binance cementing its status as the world's biggest digital asset platform.
Derivatives volumes jumped almost 25% to $1.7 trillion, the data showed.  The recent crackdown by regulators across the globe has had little impact on the platform's business.
Sales volumes of non-fungible tokens (NFTs) surged to $10.7 billion in the third quarter of 2021, up more than eightfold from the previous quarter, according to data from market tracker DappRadar, as the frenzy for crypto assets reached new highs.
This investment marks the first announced investment in digital assets by a public pension plan in the U.S. and was facilitated exclusively by NYDIG, a leading bitcoin company.
Binance and CME Open Interest hits new high.
With the price of bitcoin returning to levels above $ 60,000, open interest (OI) indicators on the Binance and CME exchanges have reached record values.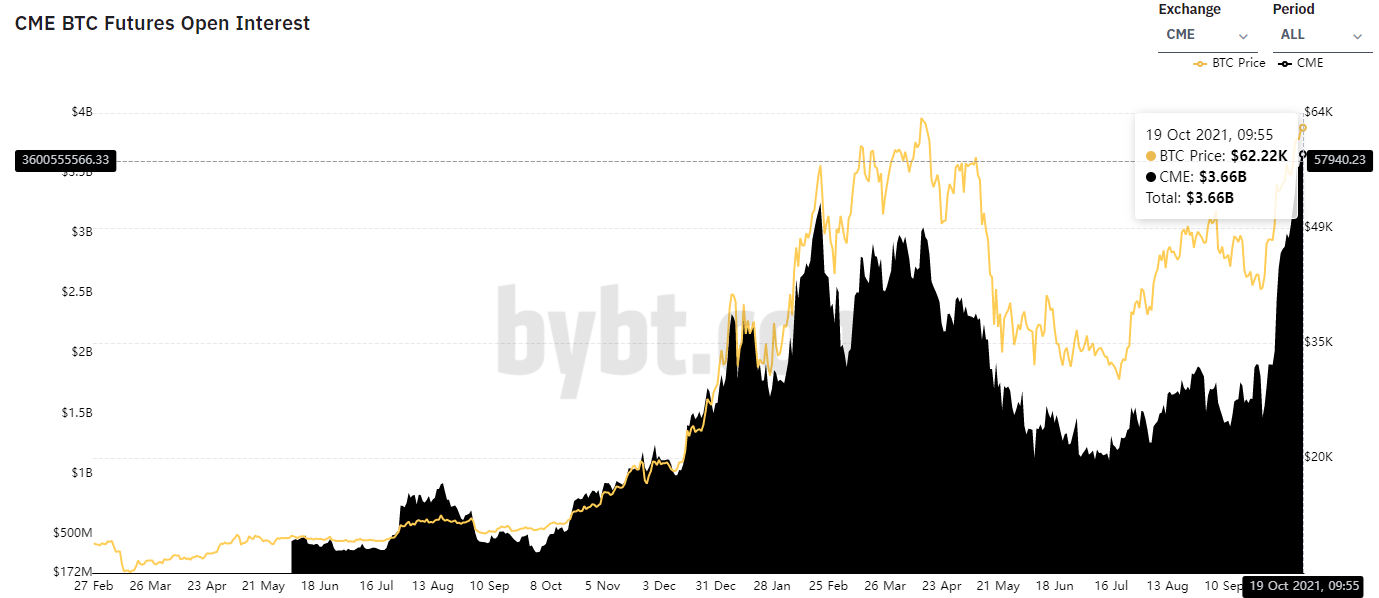 The OI of institutional players in the Commercial category has grown significantly on the Chicago Mercantile Exchange in the past few months. The net long position has increased: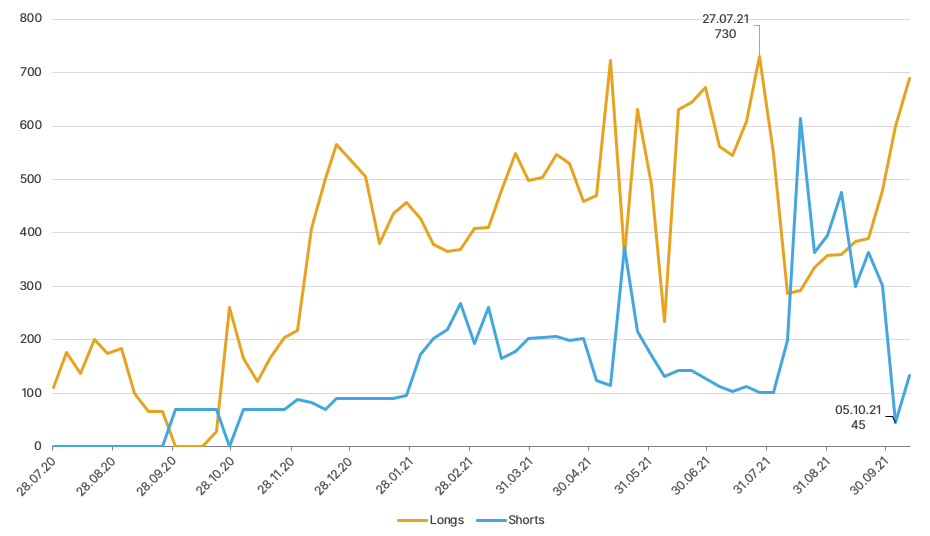 Digital asset investment products saw inflows totaling US$80m last week. Bitcoin saw the largest inflows, totaling US$70m, marking the 5th consecutive week of inflows.
Messari: Compound lending grows 57%
Amid the growing liquidity of the Compound crypto lending protocol, the volume of issued loans in the III quarter of 2021 increased by 57%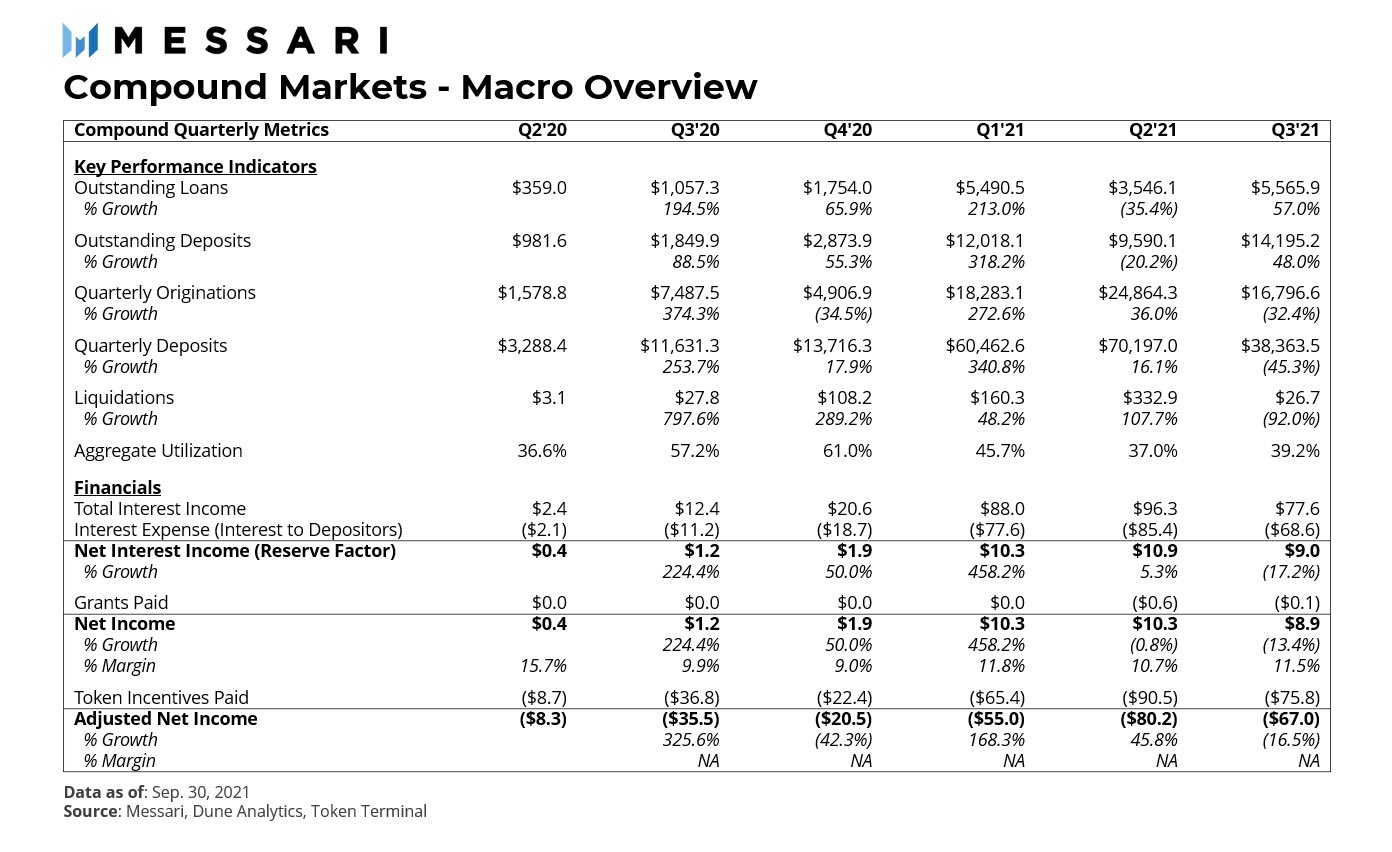 The rise in liquidity has pushed interest rates down to their historically lowest level. However, as the interest of borrowers in the USD Coin (USDC) and Dai (DAI) markets increased by the end of the quarter, rates began to rise.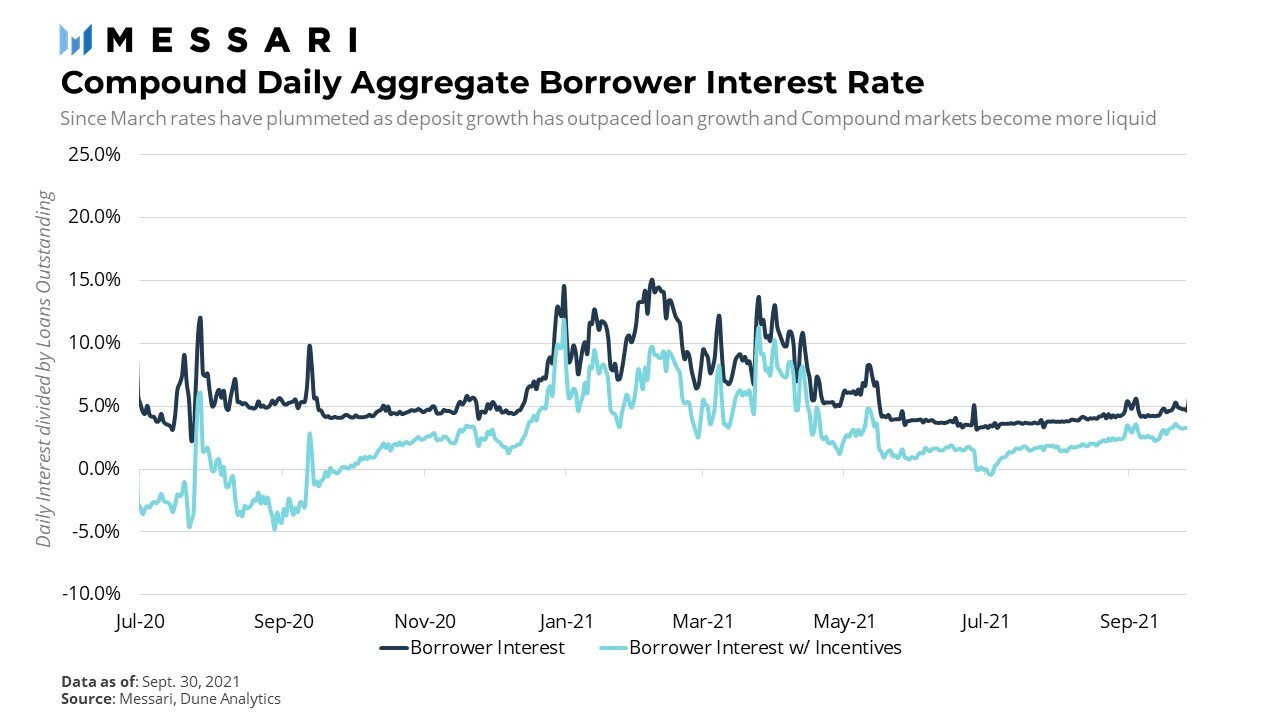 CoinGecko analysts have noted the trend of recovery in the cryptocurrency market.
CoinGrecko provides the colored report with major events of III Q 2021
Glassnode: Basic indicators are improving
The excitement in the market can be seen across a number of indicators and metrics, both in the on-chain spending patterns and in derivatives markets.
This week we explore what looks to be early signs of Long-term Holders realising profits, growing leverage in derivatives markets, and an explosion in options volume and open interest. The bulls are buying call options en mass, with preferred strike prices above $100k through to the end of the year.
Only 311.8k BTC was last moved at higher prices. Note also that the owners of these coins HODLed throughout all the ups, downs, and volatility of the last 6 months and did not sell.
With only 1.66% of the supply held at an unrealized loss, this means 98.34% of coins are now held at an unrealized profit.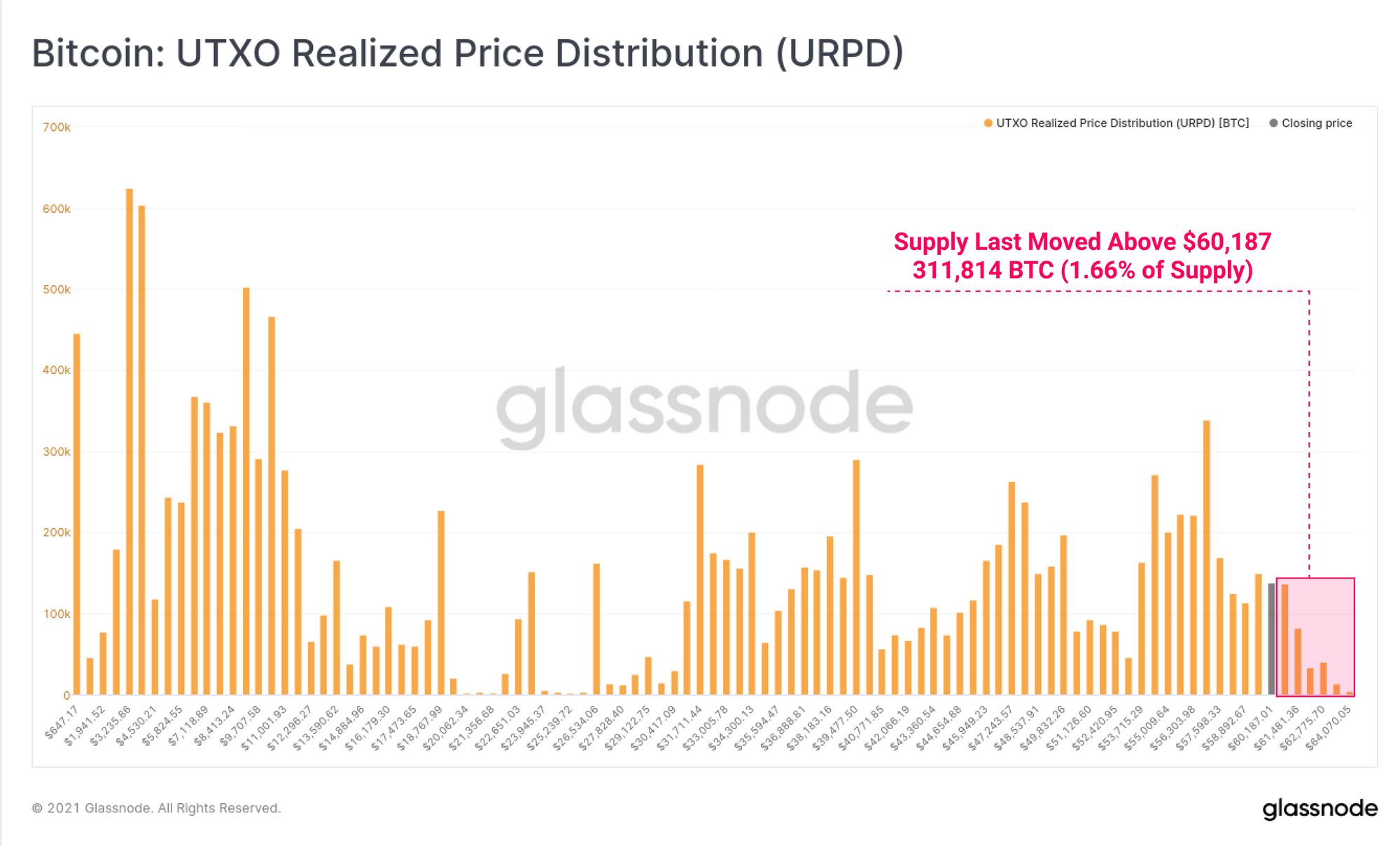 Marked out are key macro shifts in sentiment and direction, such as market tops and capitulation bottoms. Over the past 90-days, a total of 1.63M BTC worth of profits and 676k BTC in losses have been realized (a total of 2.3M BTC). Note that the realized profits metric remains significantly below the market tops in 2018 (5.99M BTC), 2019 (2.50M BTC), and most recently in Q2 2021 (4.58M BTC).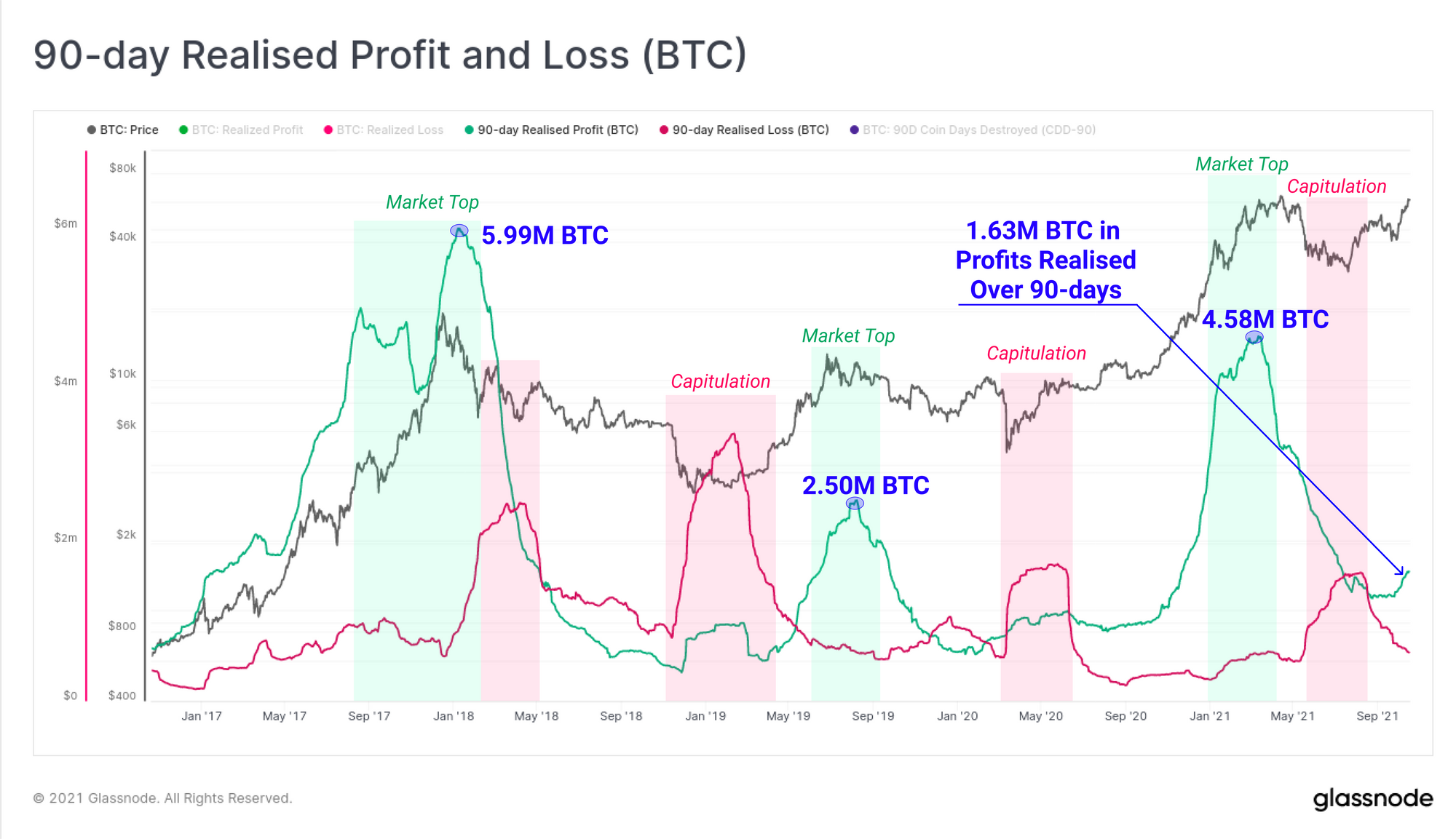 The favored options contracts appear to be call options with strike prices above $100k, with a typical open interest of $250M to $350M for call options expiring at the end of the year. The open interest in call options dwarfs that in put options, aligning with the overall bullish market sentiment.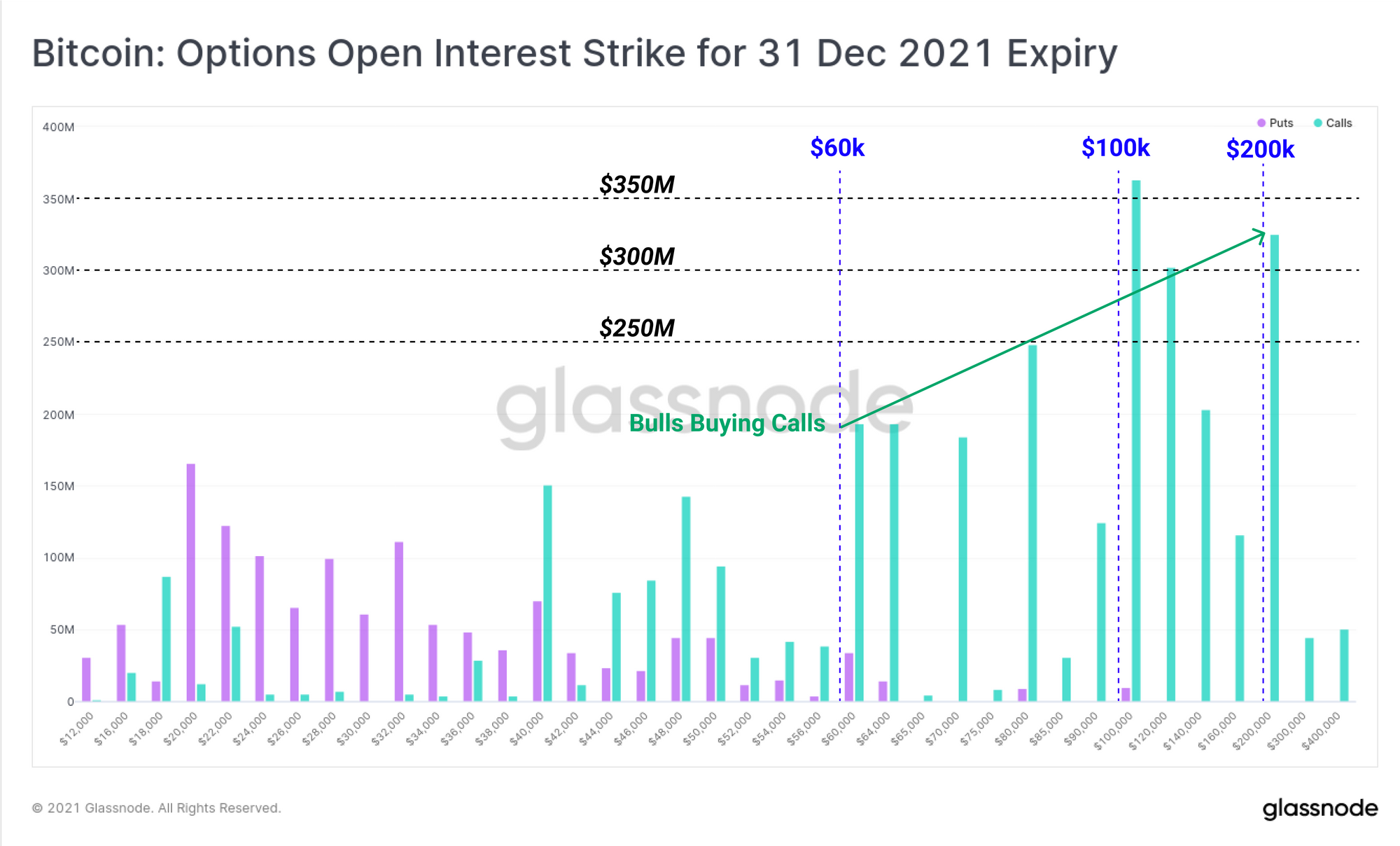 Despite futures open interest approaching ATHs, the volume traded appears to be declining on a macro scale and has been since the sell-off in May. In a high open interest but low volume environment, it could set the stage for heightened probabilities for a liquidation cascade, as volumes may be insufficient to support the flush out once it gets going.
While the market at large remains relatively healthy and demand is meeting the LTH sell-side, exercising some caution given the elevated leverage across both futures and options markets is likely prudent.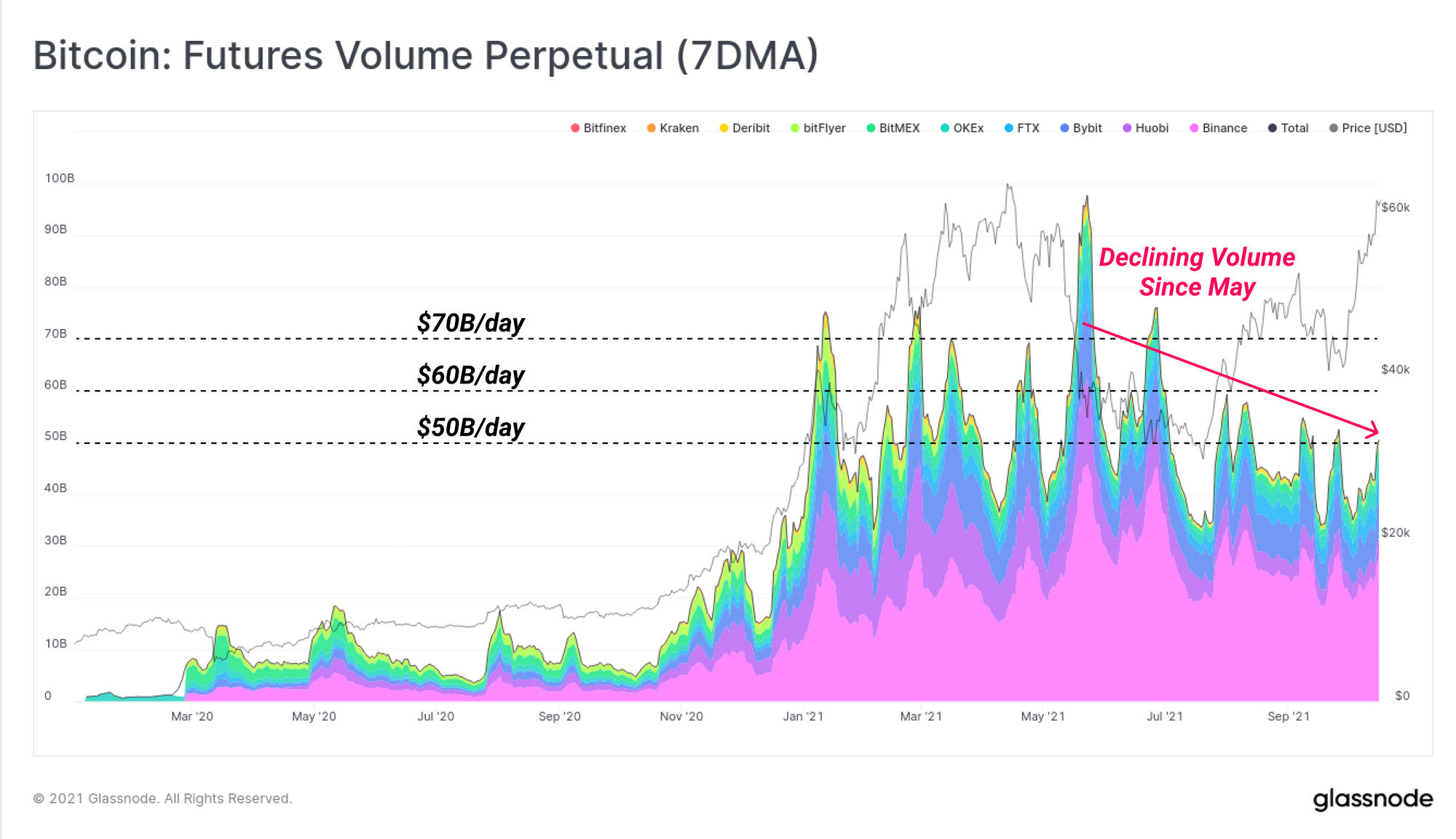 BITCOIN PRICE FORECASTS
The 3 main drivers behind bitcoin's rally, according to JPMorgan
"The recent assurances by US policymakers that there is no intention to follow China's steps towards banning the usage or mining of cryptocurrencies."

"The recent rise of the Lightning Network and 2nd layer payments solutions helped by El Salvador's bitcoin adoption."

"The re-emergence of inflation concerns among investors has renewed interest in the usage of bitcoin as an inflation hedge."
"Institutional investors appear to be returning to bitcoin perhaps seeing it as a better inflation hedge than gold," JPMorgan said, adding that the prior trend of money flowing out of gold and into bitcoin has reemerged in recent weeks.
Concerns that inflation will keep rising and not be transitory is the main driver for the Bitcoin price pushing to new highs — not the first U.S. bitcoin futures exchange-traded fund (ETF) — JPMorgan strategists said, according to a Bloomberg report.
"By itself, the launch of BITO is unlikely to trigger a new phase of significantly more fresh capital entering Bitcoin," wrote strategists, per the report, referring to the ProShares Bitcoin Strategy ETF. "Instead, we believe the perception of Bitcoin as a better inflation hedge than gold is the main reason for the current upswing, triggering a shift away from gold ETFs into Bitcoin funds since September."
As inflation rates have not declined despite the Federal Reserve's multiple remarks that it will be "transitory," investors have sought investment vehicles to protect their purchasing power. Gold has failed to act as such in recent months, contrary to Bitcoin, which has seen significant USD gains.
Institutional and professional investors are rebalancing their portfolios, cutting out losers, and hopping on the fastest horse. As a result, "the shift away from gold ETFs into Bitcoin funds has gathered pace," per the report.
"This flow shift remains intact supporting a bullish outlook for Bitcoin into year-end," the strategists said.
With gold failing to act as a reliable inflation hedge in recent months, investors are taking action. Since the start of the year, more than $10 billion has flowed out of gold ETFs, while more than $20 billion has flowed into bitcoin funds, according to the bank.
And those fund flows into bitcoin helped push bitcoin's share of the total cryptocurrency market to nearly 45% from a low of 41% in mid-September.
"The increase in the share of bitcoin is a healthy development as it is more likely to reflect institutional participation than smaller cryptocurrencies," JPMorgan said.

Bitcoin's Next Test Seen as $90,000 After Pause, Strategists Say
 Bitcoin has stalled out after reaching a record on Wednesday, but strategists are already setting out their stalls for how high the next rally will take it — $100,000 or only $90,000.
The move into unprecedented territory had chartists looking for new target levels — not quite the $168,000 or $1 million seen by some enthusiasts, but still strongly bullish.
"Initial upside targets for Bitcoin above $65,000 lie near $72,500, then $89,000, and thought to be definitely within reach on this breakout of former peaks," Fundstrat wrote in a report Wednesday. The last number would be a 100% extension of the rally up from last March's lows, it said.
Bitcoin reached its record amid anticipation of the U.S. ETFs, as well as continued institutional investment in crypto-assets and possible buying by bigger investors known as "whales." Plenty of people projecting gain to $100,000 by the end of the year, including BitMEX Chief Executive Officer Alexander Hoptner, who suggested that level in an interview with Bloomberg Television on Friday.
Katie Stockton, the founder of Fairlead Strategies, said Monday — before the latest record — that a breakout to new highs provides a positive long-term trend that should see the digital currency target $89,800, based on a measured move projection.
Bitcoin could reach $100k by 2023, Fidelity Investments director says
Bitcoin could reach $100k as early as 2023, Jurrien Timmer, Fidelity Investments director of global macro, says. Timmer explains the Bitcoin rally and which type of investor truly fuels these runs, retail or institutional. Timmer also explains his belief that even through Bitcoin growth, the dollar's hegemony as a reserve currency remains.
BlackRock Fink – I'm not a student of bitcoin."
"I'm probably more on the Jamie Dimon camp," says Larry Fink on crypto. "I'm not a student of bitcoin and where it's going to go so I can't tell you whether it's going to $80K or 0. But I do believe there is a huge role for a digitized currency."
Jamie Dimon, JPMorgan Chase & Co chief executive, said on Monday at a conference that cryptocurrencies will be regulated by governments and that he personally thinks bitcoin is "worthless."
Stating that his views are different from those of the bank and its board, Dimon said he remains skeptical.
"I personally think that bitcoin is worthless," Dimon said. "I don't think you should smoke cigarettes either. Our clients are adults. They disagree. If they want to have access to buy or sell bitcoin – we can't custody it – but we can give them legitimate, as clean as possible access."
As a bottom line
This time we do not need to give a lot of comments about the current situation and conditions as you can see everything by yourself. Euphoria stands on the market; different metrics hit all-time records.  We probably should just enjoy with current performance and wait to reach pre-defined long-term targets.
Those who regularly watch our videos on cryptocurrency probably remember that our following two targets are 75-77K and 85-88K. Both of them correspond to the popular view of the market. 
The couple of things that we would like to remind are related to long-term risks. The first is regulation. Despite J. Powell's acknowledgment and approvement of BTC ETFs by the SEC – provision authorities hardly leave their attempts to make regulation more strict. Sooner or later but the regulation tightening will make an impact on the market. Concerning the regulation, J. Dimon also said:
"No matter what anyone thinks about it, government is going to regulate it. They are going to regulate it for (anti-money laundering) purposes, for (Bank Secrecy Act) purposes, for tax," Dimon said, referring to banking regulations in a conversation held virtually by the Institute of International Finance.
Second – the new economy cycle stands close that widely described as a "tightening stage" when major Central Banks start thinking about the rate hike. And how Bitcoin behaves in a new financial environment and high interest rates is still a big concern. 
Still, as the market makes us happy with an outstanding rally – let's enjoy it and force our financial background.