This is a bit surprising, but June is a relatively quiet month for the market, as from fundamental as from a technical point of view. Technically, Bitcoin, after completing our target on a daily chart around 10K area last month, shows minor retracement, less than 3/8, and coiling in a narrow range for three consecutive weeks. In general, tight standing below the top could hint on energy building and preparation to breakout. At the same time, it also points to a lack of influential driving factors…
Sentiment overview
Meantime, hardly we could call the sentiment "bearish." It is more neutral or slightly bullish. Indeed, statistics show that interest to cryptocurrencies is rising as more money comes into the derivative market, and bitcoin funds, some exciting events have happened this month. Economists tell that BTC s reasonably priced now to intrinsic value.
As you will see below – now really big names dealing with Bitcoin that we rarely have heard before when we've talked about cryptocurrencies. This time we mention PayPal, Western Union, Deloitte, JP Morgan, and others. Maybe this is not as important in the short-term but suggests a positive perspective in the longer-term as Bitcoin gradually is becoming the part of the financial world but not only a narrow underground segment for fans.
Thus, PayPal is hiring crypto and blockchain experts amid rumors that the global payment platform will enable direct cryptocurrency purchases for its 305 million users. The job descriptions its hiring for are publicly available on the company's own job board.
As it is suggested, PayPal plans to roll out direct sales of cryptocurrency to its 325 million users, according to three people familiar with the matter.  Currently, PayPal can be used as an alternative means for withdrawing funds from exchanges such as Coinbase, but this would be a first in terms of offering direct sales of crypto.
"My understanding is that they are going to allow buys and sells of crypto directly from PayPal and Venmo," a well-placed industry source told CoinDesk. "They are going to have some sort of a built-in wallet functionality so you can store it there."
A second source confirmed that PayPal is looking to offer buying and selling of crypto and said the service could be expected "in the next three months, maybe sooner."
But this is not all yet. Western Union has made a takeover offer for its fellow legacy remittance firm MoneyGram . The deal is yet to be finalized and may not come to fruition, but if it does it would join two of the largest remittance firms in the world: Western Union brought in $4.4 billion in revenue from its consumer-to-consumer (C2C) segment in 2019, while MoneyGram recorded over $1.1 billion in money transfer revenue last year.
But for us is more important that MoneyGram is a Ripple's partner that provides service in digital money segment. Thus, acquire MoneyGram, Western Union gets the door to cryptocurrency market with its three times greater client base.
Deloitte company publishes Blockchain survey that shows rising interest to Blockchain technology and mutual payments in cryptocurrencies. Poll is based on 1488 senior executives and practitioners in 14 countries.  877 of them (almost 60%) are ready to use cryptocurrencies in their business.
Fidelity Says a Third of Big Institutions Own Crypto Assets
Across the U.S. and Europe, 36% of the survey's 774 respondents said they own cryptocurrencies or derivatives. In the U.S., 27% of institutions — including pension funds, family offices, investment advisers and digital and traditional hedge funds — said they own digital assets, up from 22% about a year ago, when Fidelity surveyed 441 institutions just in the U.S. In Europe.
Important statistics
In a new report on Thursday, London-based data aggregator CryptoCompare found crypto derivative volumes increased 32% to $602 billion. That's a new all-time high, squeaking past the previous record of $600 billion set in March.
But CryptoCompare also found there was a notable increase in trading activity around crypto options, contracts giving the owner the right to buy or sell the underlying at a specified date and price.
Volume on options exchange Deribit more than doubled to $3.06 billion in May. On the 10th of that month, the day before the Bitcoin halving event, $196 million worth of trades passed through Deribit, making it the single-biggest day in the platform's four-year history.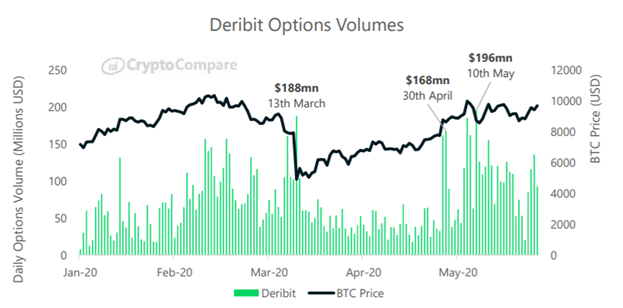 Similarly, institutional exchange CME, which only released its own crypto options earlier this year, reported a 16-fold increase in monthly activity compared to April. Like Deribit, there was a significant uptick in trading activity in and around the Bitcoin halving event.
Thus, according to Skew analysys service the total open interest of Bitcoin options have jumped above $1.5 Bln, while just month ago it was around $1Bln: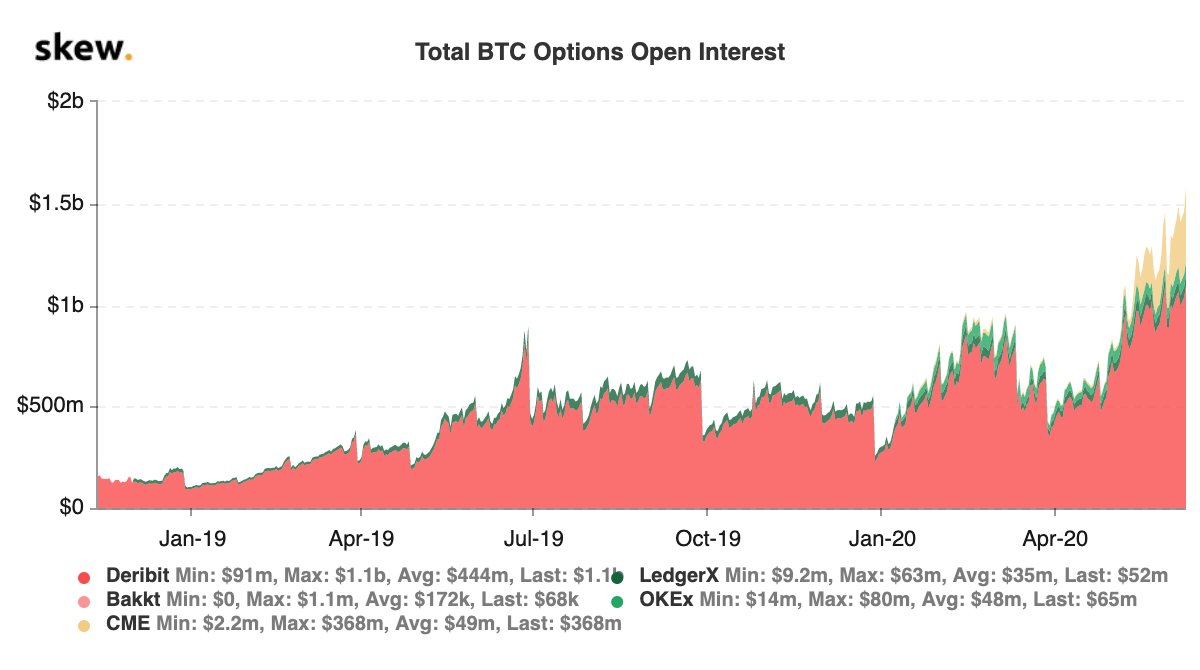 Speaking to CoinDesk, CryptoCompare founder and CEO Charles Hayter said the surge in crypto options trading suggested a "more sophisticated, diverse class of investor" is getting involved during a period when not only was there a halving event, but also "unprecedented financial measures" taking place around the world following the coronavirus outbreak.
Activity on spot market is also increased approximately for 5% and reached $1.27 Trln. vs $602 Bln. on derivative market: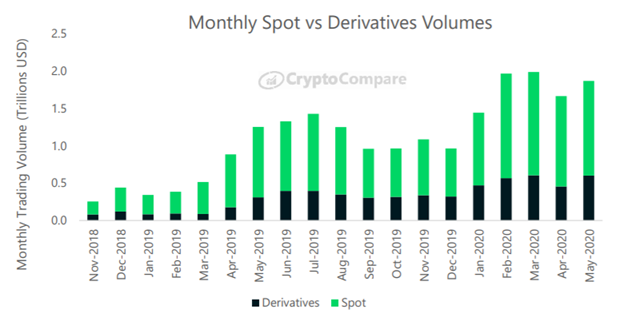 Finally, Grayscale reports that their assets under management has reached $4.2 Bln.
Glassnode analysts report that "Despite a drop in bitcoin's price and on-chain fundamentals in Week 24, the overall health of the network remains strong". Despite the volatile market movements of 2020, the number of bitcoin whales has been growing near-consistently since January, with a current value of 1882 entities holding at least 1000 BTC. The last time this figure was so high was in September 2017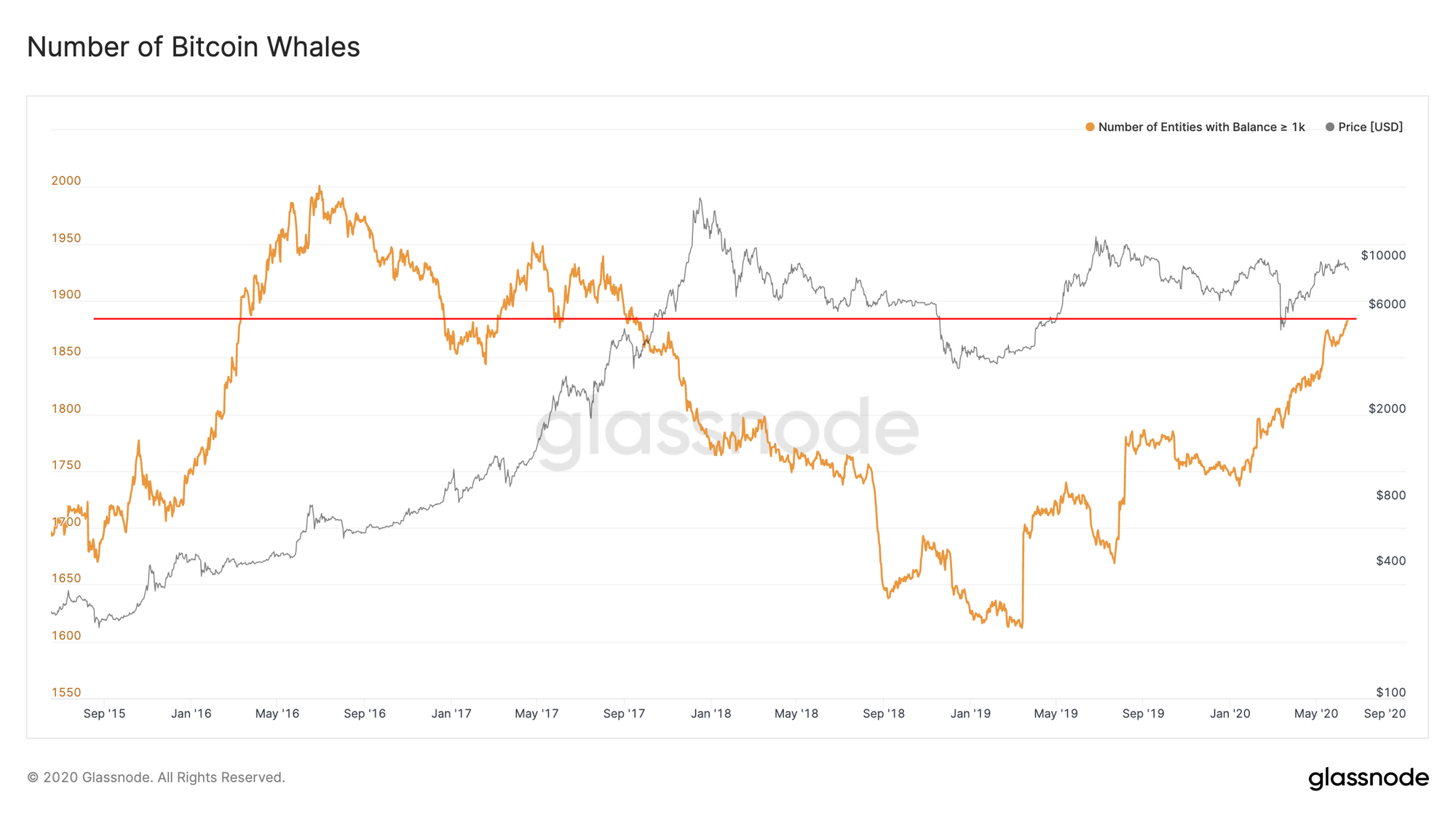 Fundamental analysis and forecasts
So it seems that long-term sentiment stands positive and exclude, at least currently, any significant drop of Bitcoin price. There are few ways of metrics, how to measure fair value of bitcoin, its intrinsic value and compare to market value.
Bitcoin's intrinsic value, or the fundamental value, is now in line with its market value, according to JPMorgan strategist Nikolaos Panigirtzoglou.
The intrinsic value of an asset helps determine if it is overvalued or undervalued. JPMorgan calculates the intrinsic value of bitcoin by treating it as a commodity and by looking at its marginal cost of production, including computational power employed and electricity cost.
Panigirtzoglou said bitcoin's halving has helped close the gap between the cryptocurrency's intrinsic value and market price.
"Given the halving of the bitcoin rewards that took place on May 11th, the intrinsic value estimate effectively doubled," he said, adding that a 20% drop in bitcoin's hash rate after the halving and price decline also contributed to closing the gap.
In Another report, JP Morgan experts said:
That cryptocurrencies largely survived the madness of March suggests "longevity as an asset class," wrote strategists at the bank led by Joshua Younger and Nikolaos Panigirtzoglou.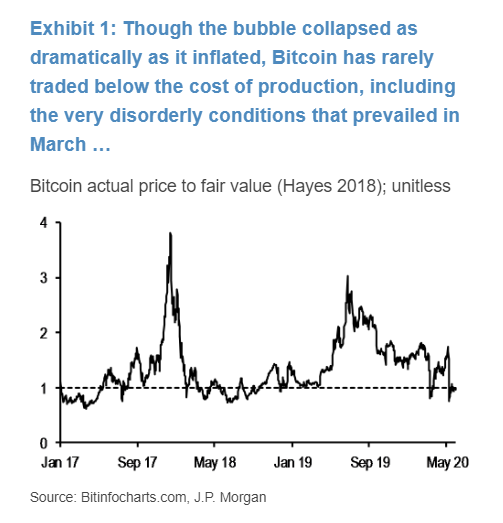 Here are the positives: In the depths of the March panic, the coin's valuations didn't diverge much from intrinsic levels, meaning that its value only briefly dipped below mining costs even as volatility spiked. In addition, there were few signs of a flight to liquidity within the asset class. In other words, during shock periods like the one experienced in March, traders might rush for safety or toward more liquid parts of the crypto market. But most cryptocurrencies fell at the same time — and that correlation has risen over the past few months.
Finally, the coin's market structure turned out to be more resilient than those of currencies, equities, Treasuries and gold, they wrote. To measure this, the strategists looked at liquidity, or the bid-offer spread of the order book, which is directly related to volatility. When the order book thins, a given transaction could result in a larger price change, and vice versa. Though Bitcoin saw among the most severe drops in liquidity around the peak of the crisis, that disruption unwound itself much faster than other asset classes.
Bloomberg analysts Mike McGlone suggests that BTC could rise above 20K level and reach 28K in medium term perspective.  
Favorable trends in Bitcoin futures trading on the CME are supportive of the price, in our view. Representing maturation toward the mainstream of assets, increasing futures open interest and the steady price premium are headwinds for volatility and tailwinds for prices. The near doubling in futures open interest toward the level when Bitcoin topped $10,000 in 2019 indicates the rapid pace of maturation and a tilt toward higher prices, in our view. Not
only do futures represent joining the mainstream, trading on a U.S.-regulated exchange is a key issue, with the SEC reluctant to approve Bitcoin ETFs. The recent record in open interest, well above past peaks when Bitcoin was unable to sustain above $10,000.
Surging interest in crypto assets tracking a stable currency is an enduring trend and a support for the Bitcoin price, in our view. At over $10 billion in May, vs. about $4 billion a year ago according to Grayscale, interest in digital links to the dollar represents the need to transact and store value in the world's reserve currency without an intermediary. We can't help but draw parallels to the adoption of paper currencies throughout history as the world today moves rapidly toward digitization. Bitcoin is the benchmark crypto asset and is
increasingly becoming a digital version of gold. Akin to the metal, the first-born crypto is independent and no one's liability.
Bitcoin On-Exchange Absorbing About 25% of Annual Supply. Despite the lack of a U.S. exchange traded fund, Bitcoin on-exchange instruments indicate greater buy-andhold interest, supporting prices. The Grayscale Bitcoin Trust (GBTC), the largest, is taking an increasing amount of supply off the market, yet its premium continues to decline.
As measured by assets under management (AUM), the Trust is by far the largest crypto-asset exchange-traded instrument. So far this year, its increasing AUM has consumed about 25% of new Bitcoin-mined coins vs. less than 10% in 2019. Our graphic depicts the rapidly rising 30-day average of GBTC AUM near 340,000 in Bitcoin equivalents, about 2% of total supply. About two years ago, it accounted for 1%.
Finally, two other companies – Messari and Glassnode point that Bitcoin is slightly undervalued compares to fundamental value which provides good background for price rising and makes reasonable buying opportunities.
Bitcoin's 
Realized Cap
 is continually hitting all-time highs, having just reached a new high of $106.7b after surpassing its previous high attained just before Black Thursday.
Realized Cap values bitcoins at the price at which they were last moved, in order to discount the value of lost coins and give active coins a more realistic economic weighting. Its high value means that BTC's 
MVRV Ratio
 can stay relatively low, despite prices being quite high.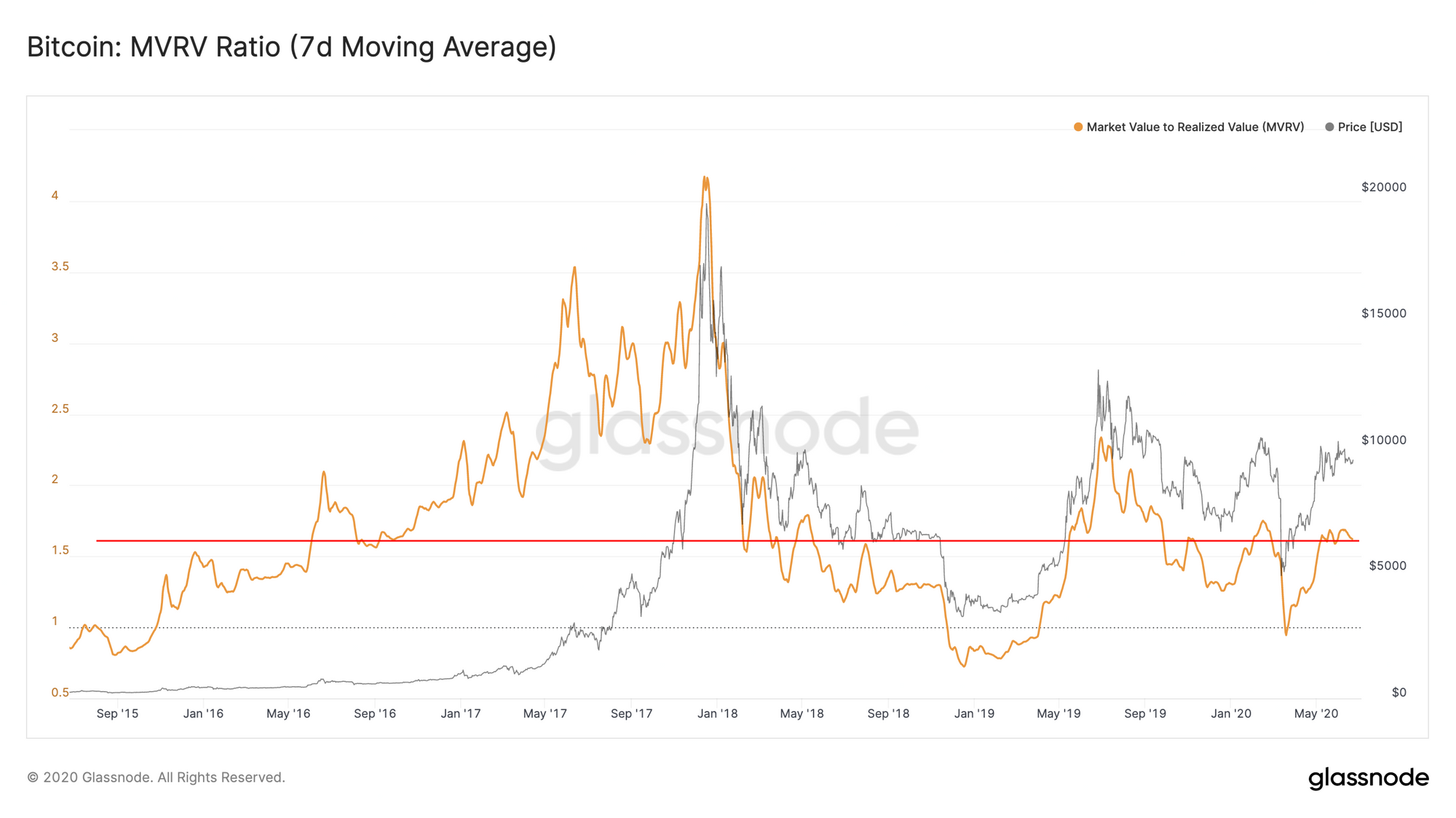 MVRV (the ratio of Market Cap to Realized Cap) shows when BTC is being traded at above or below "fair value" relative to its realized price. When the market value (i.e. price) drops below the realized value, this implies that bitcoin is being traded at below "fair value".
Thus, a consistently high (and growing) Realized Cap means that the price of BTC has more room to grow while still being in the realm of fair value in terms of the actual economic weight of all coins in circulation.
Messari applies a bit different approach but it also shows that now Bitcoin is undervalued and has upside potential:
They calculate special indicator that calls
"Realized Capitalization"
that take in consideration the average amount of real transactions of Bitcoin.  This indicator itself is calculated by evaluating each unit of the offer at the price at which the last transaction was carried out. Realized capitalization can be considered as an estimate of the total base value of cryptocurrency.
By this approach Bitcoin shows 2nd best result, showing that investors stay in profit, why, say ETH, holders take 2% loss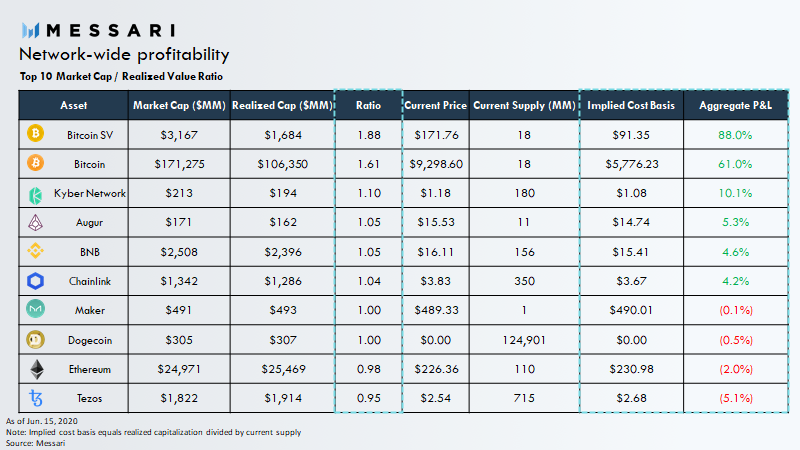 That's being said,  guys, currently, we see significant positive shifts in Bitcoin's status and reputation. While previously, we mostly have read an analysis of some private investors and small companies that nobody was familiar with, now it is quite a different story. Big companies show serious attention to Bitcoin and making in-depth insight analysis regularly. As JP Morgan, as Bloomberg analysis points on the positive long-term perspective of Bitcoin. Market statistics show that investors' interest is rising as well. This is not a surprise for us, because last month we foresaw that (and it was not too difficult) when we saw that Central Banks together had printed 15% of Global GDP. Some of this money had had to find a way into the cryptocurrency market. 
As markets across the Globe gradually return to a healthy life, miserable collapse seems hardly possible. Things have to go absolutely wrong to trigger nose dive action.  Now market performance and fundamental background point of some energy building on the market and forming situation of "tighten spring" before release.  If things go further as they are now, within a few months, we could see BTC 10-20% higher than now.