Year is coming to an end…
So, guys, step by step, we have come to the end of 2020 – a tough year for everybody.  It is common to talk about results by the end of the year, so do we. But still – we're interested in the future mostly, not the past. Thus, results are a good thing, but what's next? What to expect from the market in the nearest future, right after the holidays? And we have special events that could help us to understand the market's sentiment better right now.
So let's get started
At the beginning of mention a few events that by our view, have essential meaning for the market's development and could set some turning points. First of all, we see hidden risk, a "phantom menace" that stands around SEC claim to Ripple.
The Securities and Exchange Commission announced that it has filed an action against Ripple Labs Inc. and two of its executives, who are also significant security holders, alleging that they raised over $1.3 billion through an unregistered, ongoing digital asset securities offering.
The core of the claim stands in SEC treatment of Ripple is an "investment asset", such a stocks or bonds and its emission has had to be registered as it was used as source to finance the capital of the company:
The complaint alleges that Ripple raised funds, beginning in 2013, through the sale of digital assets known as XRP in an unregistered securities offering to investors in the U.S. and worldwide.
The complaint alleges that the defendants failed to register their offers and sales of XRP or satisfy any exemption from registration, in violation of the registration provisions of the Securities Act of 1933, and seeks injunctive relief, disgorgement with prejudgment interest, and civil penalties.
Ripple, in turn, argues that XRP is not a security.
"This complaint is wrong as a matter of law. Other major branches of the U.S. government, including the Justice Department and the Treasury Department's FinCen, have already determined that XRP is a currency. Transactions in XRP thus fall outside the scope of the federal securities laws. This is not the first time the SEC has tried to go beyond its statutory authority. The courts have corrected it before and will do so again."
So Ripple has chance to win this claim, but the precedent per se looks worrying. It tells on two things – tighter regulation and menace for other altcoins, that uses the same distribution way as XRP, especially if initial distribution has happened few years ago.
Besides, as you know, MoneyGram stands in close partnership with Ripple on providing cryptocurrency payments. Other companies and MoneyGram as well could lose faith and interest in cryptocurrencies, as not regulated enough, which in turn, makes a negative impact on the growth of this business and pace of involving other classic payment agencies in the cryptocurrency sphere.
Germany Banning Derivatives Trading with its New Tax Law Starting 2021
Germany has made changes to its law that no longer allows the losses from income from forward transactions, crypto derivatives trading to be deductible. In 2020, regulators around the world tightened their noose on cryptocurrencies, and Europe is making a move against derivatives trading.
"If the trader realizes option transactions with a total profit of 1,000,000 euros and transactions with a total loss of 800,000 euros in one year, he will not only have to pay withholding tax on the profit of 200,000 euros but also on 990,000 euros from 2021," explained the tax advisors. This is because only 10,000 euros can be offset from the total losses of 800k euros, and 790k euros are carried forward to the following years.
Institutional flows to cryptocurrency holds
MicroStrategy Announces Over $1B in Total Bitcoin Purchases in 2020
it had purchased an additional approximately 29,646 bitcoins for approximately $650.0 million in cash in accordance with its Treasury Reserve Policy, at an average price of approximately $21,925 per bitcoin, inclusive of fees and expenses.
As of December 21, 2020, the Company holds an aggregate of approximately 70,470 bitcoins, which were acquired at an aggregate purchase price of approximately $1.125 billion and an average purchase price of approximately $15,964 per bitcoin, inclusive of fees and expenses.
"The acquisition of additional bitcoins announced today reaffirms our belief that bitcoin, as the world's most widely-adopted cryptocurrency, is a dependable store of value. The Company continues to believe bitcoin will provide the opportunity for better returns and preserve the value of our capital over time compared to holding cash"
Chris Wood cuts exposure to gold, a first in years; invests in Bitcoin
"The 50 per cent weight in physical gold bullion in the portfolio will be reduced for the first time in several years by five percentage points with the money invested in Bitcoin. If there is a big drawdown in bitcoin from the current level, after the historic breakout above the $20,000 level, the intention will be to add to this position," Christopher Wood, global head of equity strategy at Jefferies  wrote in his weekly note to investors, GREED & fear.
Fidelity CEO: Our Bitcoin storage business has been incredibly successful
and Fidelity Digital to Hold Bitcoin as Collateral for Cash Loans
Fidelity Digital Assets will allow its institutional customers to pledge Bitcoin as collateral against cash loans in a partnership with blockchain startup BlockFi. The target is Bitcoin investors who want to turn their digital stash into cash without selling, and potential customers include hedge funds, crypto miners and over-the-counter trading desks, Jessop said.
"As the markets grow, we'd expect that this becomes a fairly important part of the ecosystem."
Fidelity said institutional-investor interest in digital currencies is rising. A survey the asset manager conducted earlier this year found 36% of respondents held crypto in their portfolios. More than six out of 10 expressed interest in Bitcoin and other cryptocurrencies, up from 47% in a 2019 survey.
Sweden Explores Moving to a Digital Currency
Per Bolund, financial markets minister, said a review launched on Friday is expected to be completed by the end of November in 2022. Anna Kinberg Batra, a former chairwoman of the Riksbank's finance committee, will lead the inquiry.
Sweden is among the first countries in the world to consider introducing a digital currency. Its central bank is already running a pilot project to introduce an electronic krona based on the same blockchain technology that underpins digital currencies like Bitcoin.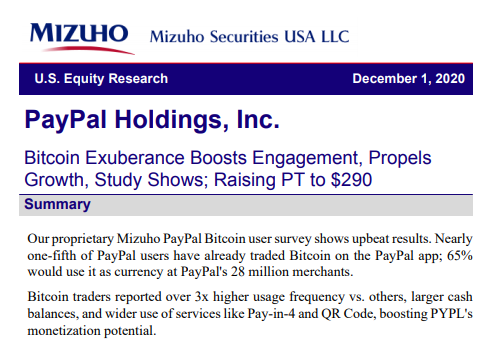 The Guggenheim Funds Trust assets are around $200 Bln. and they intend to invest 10% in Grayscale BTC Fund. This is the things that we've mentioned in our previous report – minor attention of institutional investors could blow up BTC capitalization. Thus, if Guggenheim Funds invests 10% – only this investment could rise BTC price for 5-7%.
The poll involves 217 asset managers with total assets of $ 535 Bln.
The most crowded trades according to the Bank of America Global Fund Manager Survey. Bitcoin is the third most crowded trade after a swell-up in December mostly due to increased institutional uptake in the west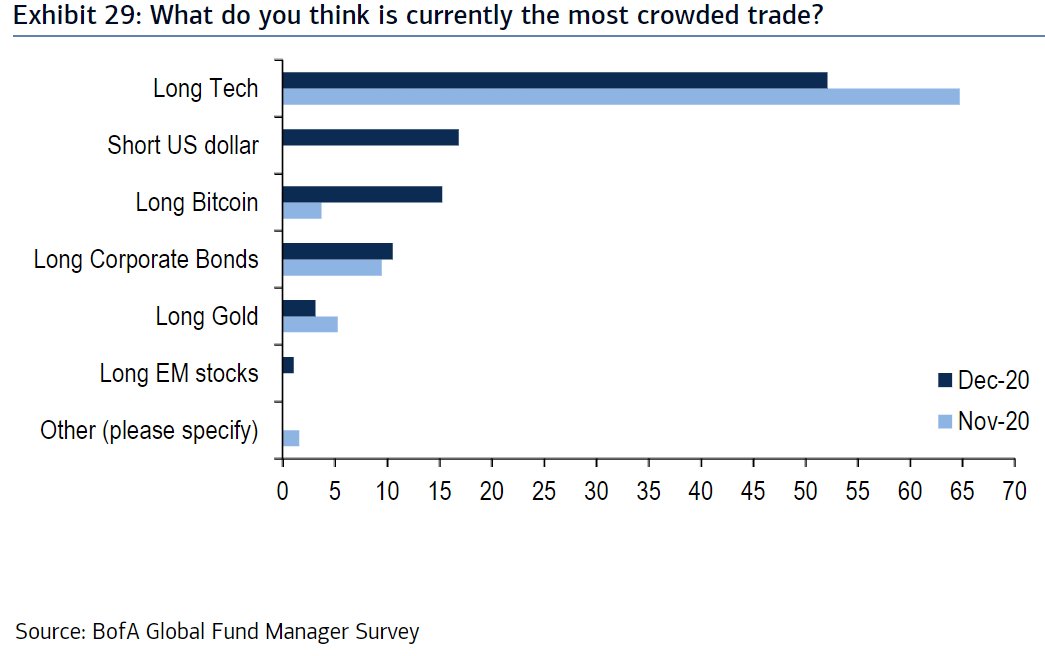 Coinbase Global, Inc. today announced that it has confidentially submitted a draft registration statement on Form S-1 with the Securities and Exchange Commission (the "SEC").  This form is filled to run into IPO. 
Messari experts value Coinbase around $28 Bln.
"An initial simple CBDC would offer only modest advantages for fiscal and monetary policy, but a more radical CBDC could make policy more powerful someday. On the fiscal policy side, a simple CBDC could facilitate instant delivery of stimulus payments"
"The exposure to bitcoin is currently equivalent to around 2.5% of the portfolio. We see this as a small but potent insurance policy against the continuing devaluation of the world's major currencies. Bitcoin diversifies the company's (much larger) investments in gold and inflation-linked bonds, and acts as a hedge to some of the monetary and market risks that we see."
2,5% of company's assets is approximately $740 Mln.
A hedge fund specializing in volatility bets has emerged as one of the largest investors in Bitcoin after quietly buying more than $600 million in cryptocurrencies and joining forces with Alan Howard, the co-founder of Brevan Howard Asset Management.
Also we have a lot of other smaller investments (below $100 Mln) from institutional investors that is not necessary to mention because overall trend is quite clear.
MINING
According to Coin Metrics in Jan-Nov of 2021 the Miners' revenues set the new high and have risen in November for 50%, exceeding $500 Mln:
Source: forklog.com, Coinmetrics.io
Core Scientific purchase through September 2021 of over 58,000 additional S19 Series Bitmain Miners in response to demand for Core Scientific hosting services. The purchase agreement will bring total purchases to 76,024 S19 and S19 Pro Antminers for the past 16 months.
Market Statistics
Obviously we have good numbers across the board as BTC hits new all time highs, still, let's take a look the major new achievements.
The Grayscale Bitcoin Trusthas attracted new investors throughout the year, leading to a doubling of Grayscale's BTC holdings from approx. 261k BTC in January to 544k BTC by Dec 12th. The holdings of GBTC is just below 3% of the total circulating BTC supply.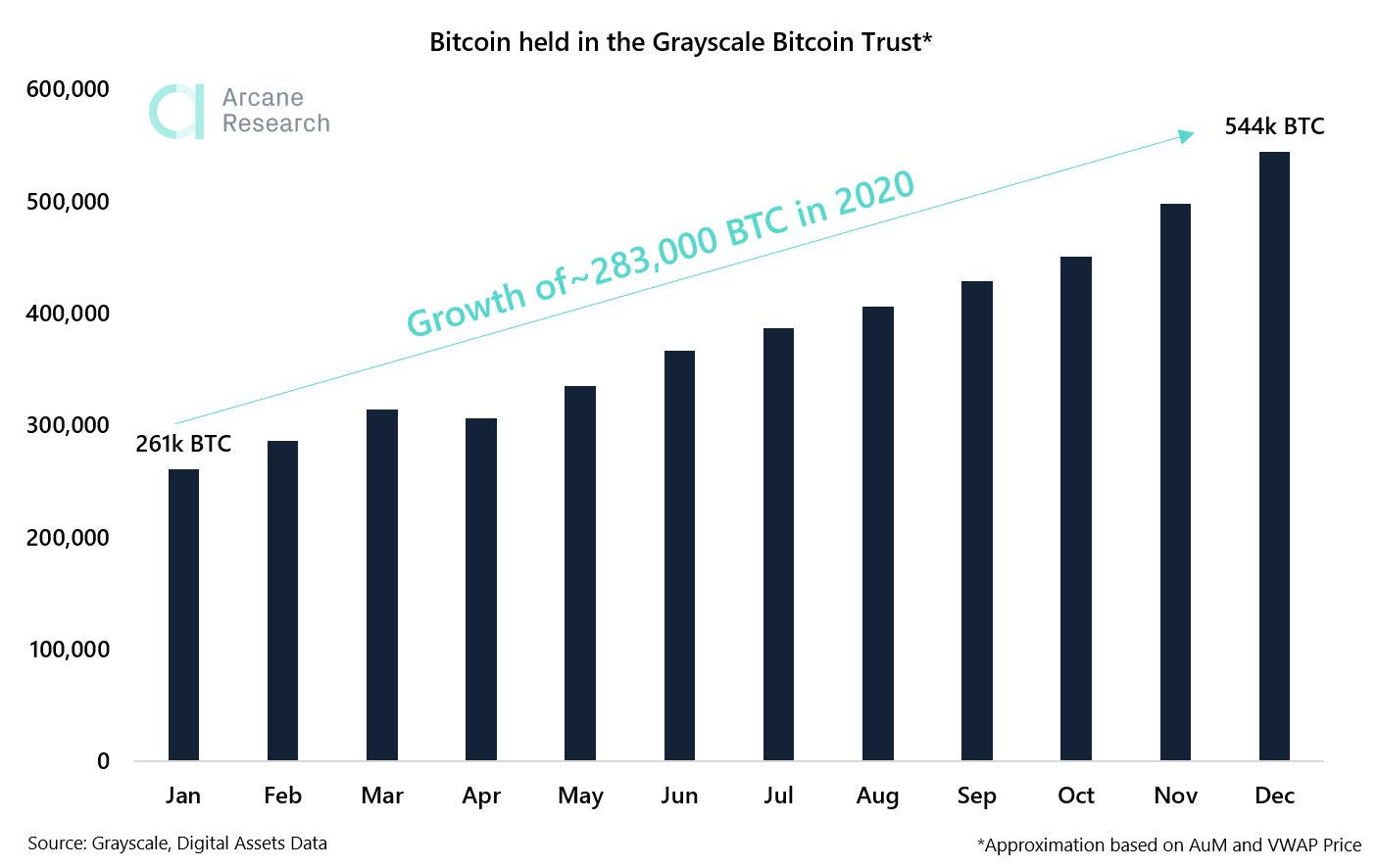 Skew reports – Aggregated daily BTC Futures trading volume has exceeded $1Bln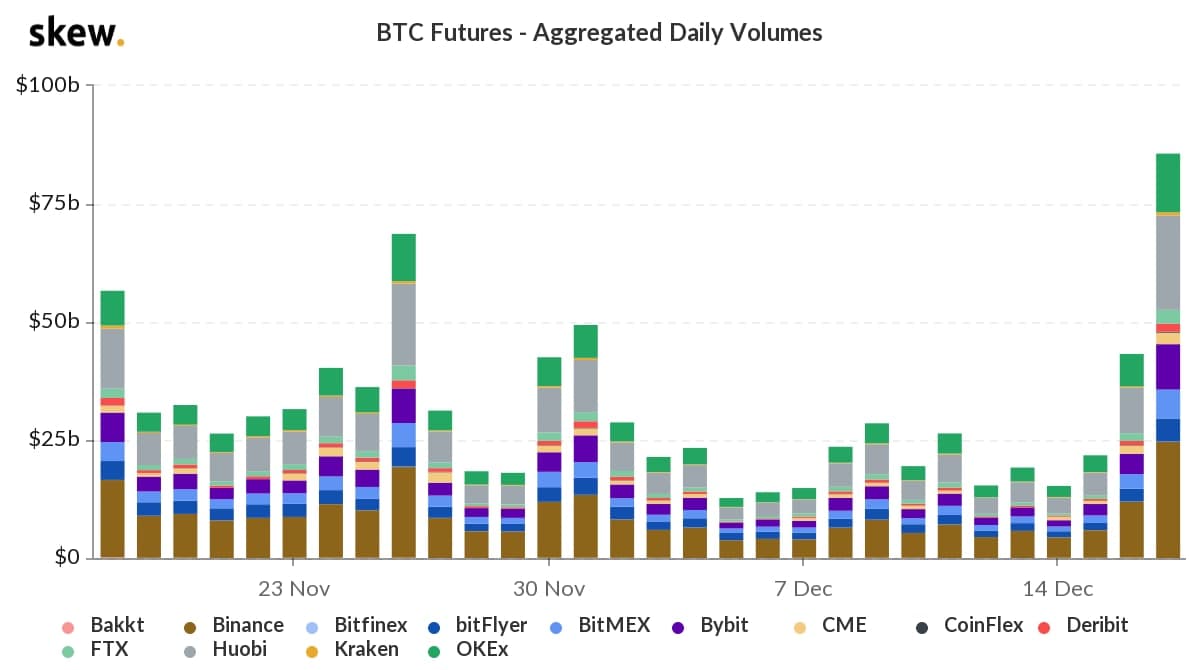 CME aggregated Open interest has reached the new maximum of $1.47 Bln. It is 42% higher than a week ago. Total open interest on all exchanges has reached $8.7 Bln.
CME also reports on higher activity of "Commercial" investors that significantly increased "Long" exposure:
Source: forklog.com
According to Block chair, the average transaction fee has jumped for 350% as memory pool was overloaded:
BTC Price forecast and expectations
As usual, this is the most exciting part of the research. But as a prologue to the subject, I would like to start from the event that, at first glance, has no relation to Bitcoin price. But it could become the background of the following change in price behavior:
Grayscale temporarily stopped accepting new clients, but it looks like their existing clients are still quite hungry for more… 12k new bitcoin bought today. That is 13X the new supply today (23rd of December).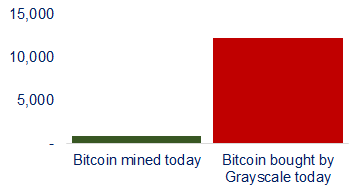 Why this is important? Take a look what JP Morgan tells on this news:
The odds of a Bitcoin correction would increase if the flows into the world's largest traded cryptocurrency fund slow significantly, according to strategists at JPMorgan Chase & Co.
While it's hard to avoid describing Bitcoin as "overbought," the flows into the trust "are too big to allow any position unwinding by momentum traders to create sustained negative price dynamics," the strategists said. A major slowdown in those flows would boost the risk of a Bitcoin correction akin to the one in the second half of 2019, they said.
Still, this is mostly relates to nearest term, while in a Longer term perspective most analysts agree on positive future, although price levels differ.
Thus, the Guggenheim Fund, mentioned above and its Chief investment Officer,Scott Minerd said on Bloomberg TVthat they expect BTC rising to $400K:
"Our fundamental work shows that Bitcoin should be worth about $400,000," Minerd told Bloomberg Television on Wednesday. "It's based on the scarcity and relative valuation such as things like gold as a percentage of GDP. So you know, Bitcoin actually has a lot of the attributes of gold and at the same time has an unusual value in terms of transactions."
$50,000 Is Potential 2021 Bitcoin Resistance; Support Is 

$10,000.

Bitcoin will maintain its propensity to advance in 

price into 2021, in our view, with macroeconomic, technical 

and demand vs. supply indicators supportive of $50,000 

target resistance, implying about a $1 trillion market cap. The 

$10,000 mark has shifted to a critical support level after 

serving as the crypto's resistance mark since 2017.

$500-$700 Set to Define Ethereum in 2021.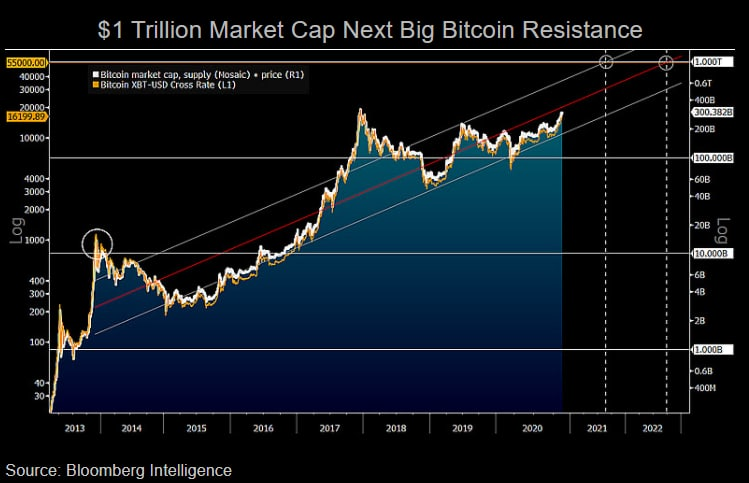 Our 
graphic shows Bitcoin may stall around $19,000-$20,000 for 
a few months, if its revisit of previous highs in 1Q17 is a guide. 
A big difference is that only 900 new coins are mined each 
day vs. 1,800 in 2017. Futures open interest has jumped to 
more than $1 billion from zero at the start of 2017, and funds 
tracking the Grayscale Bitcoin Trust (GBTC) have approached
$10 billion vs. closer to $200 million.
"One can see the potential demand that could arise over the coming years as other insurance companies and pension funds follow MassMutual's example."
If pension funds and insurance companies in the U.S., euro area, U.K. and Japan allocate 1% of assets to Bitcoin, that would result in additional Bitcoin demand of $600 billion, the strategists said. The cryptocurrency's current market capitalization is about $356 billion, according to CoinMarketCap.
According to Glassnode analysis
, using few indicators of performance in 2017 that is far from saturation right now and applying the same growth ratio – they point on BTC price around 200-250K on average:
Net Unrealized Profit/Loss Current value stands at 78% from the 2017 top. Price in 2017 increased +1,400% to ATH. A +1,400% increase today –  

at $286,000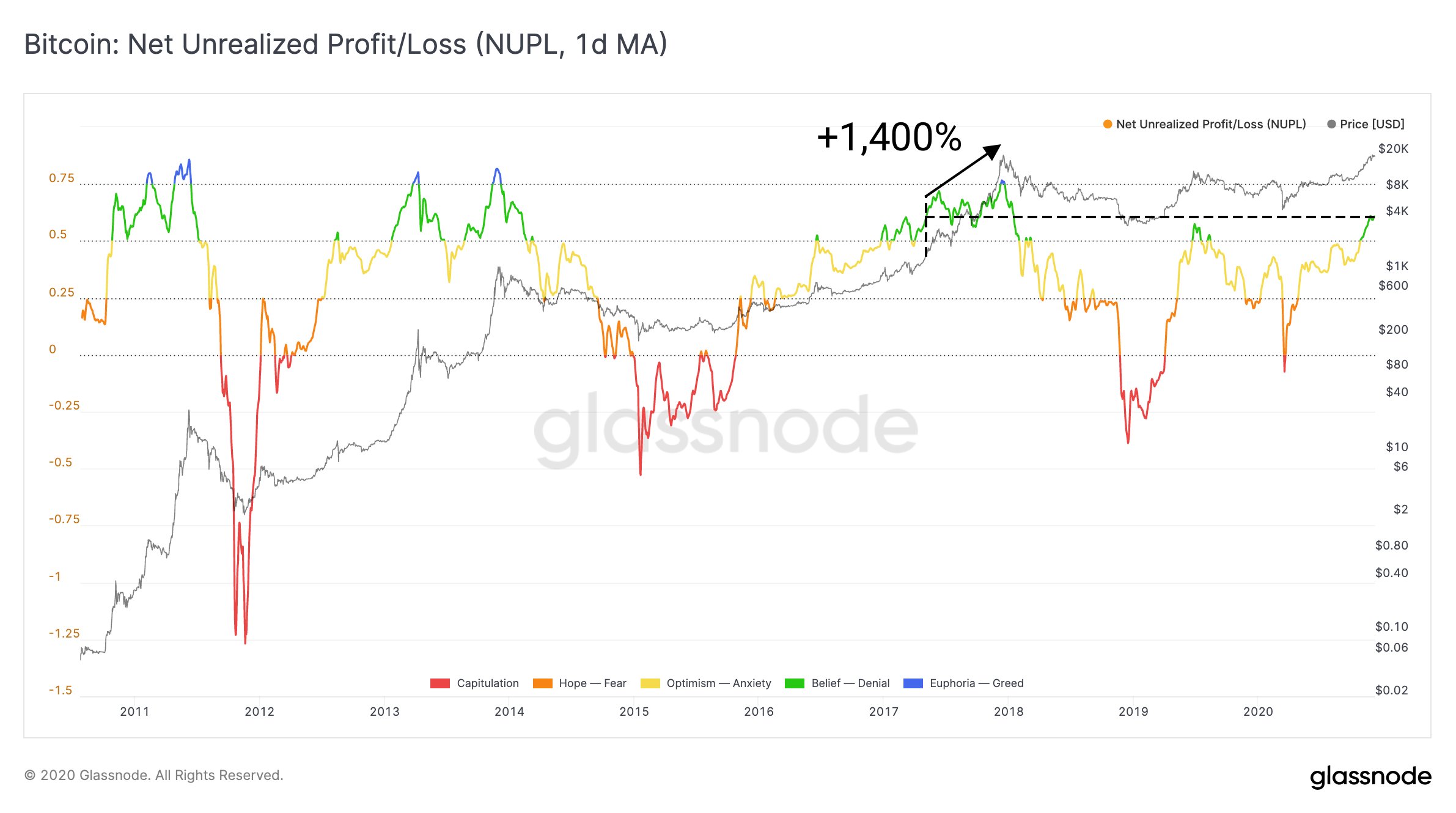 As a result, we have the consensus of BTC price for 2021 above $50K that is two times greater than now.
Finally, I also would like to show you some thoughts that put our future discussions' background.  Our long-term vector of cryptocurrencies that we discussed last year seems correct, and our expectation of explosive growth due to a massive expansion of institutional investors fulfilled accurately. This trend continues in 2021 and maybe 2022 as well, and this is the reason why we do not see irrational things to suggest price action to 50-100-200K per coin within few years for the same reason – funds have too many fiat money, and they do not know where to put them.
Still sooner or later, but the question should rise – how much is it worth to pay for BTC? There will be a limit someday, just by classic utility law, when it is less utility to buy another BTC than purchasing ETH, XRP, or any other altcoin.
This is our next step in cryptocurrency history. We do not see any hazard of turning to altcoins in the current situation while BTC stands below 100-150K per coin. Pension and Hedge funds have trillions of fiat money and more to come due to the Fed and other Central Bank stimulus emission. When institutional investors' investments hit ~10%, leading to 10 times BTC growth to ~200K per coin, some thoughts on ETH or other altcoins should rise.
Of course, this process should be parallel, and demand for other currencies will move with the same trend, but intensity switching to altcoins will rise as higher BTC price becomes. IT should intensify drastically with BTC price over 100K
And right now we already hear careful hints on that:
Bitcoin now forms 62% of the cryptocurrency market capitalization. Two years ago, at its peak, the figure reached 70%. I believe its dominance will drift downward as it rallies as altcoins will outpace him.