Bitcoin Fundamental Briefing, June 2023
WIND OF CHANGE?
This time, guys, we make a specific report, trying to understand, whether we really stand at decisive point and cryptocurrency world never remains the same, or, it will just an episode, similar to many other ones that we saw previously.  Of course, as usual, we discuss some new forecasts, changing of market statistics and many other things that we usually do in every report. At the same time, hardly we become an original, pointing that BlackRock ETF topic has exploded the net and fairly treated as the most important event , at least in recent two years. 
So, very soon we should know whether this is really the wind of change for the market, signaling over ending of the crypto winter, or not yet. And despite how unpleasant it could sound, but control is in the hands of the SEC. according to Bloomberg Intelligence, the SEC has a maximum of 240 days to decide on the BlackRock's application.
MARKET OVERVIEW
Month has begun with deep negative tone. It was seemed that no light at the end of the tunnel.  SEC has filled the legal claim, started probes against Binance and Coinbase.  All these steps were just a continuation of the SEC longer-term strategy to tight regulation over crypto market. Market depth is down a whopping 78%. Market makers vacated instantly, leaving hardly any liquidity, Kaiko said
Belgium's FSMA regulator on Friday ordered Binance to cease offering any virtual currency services in the country, adding to pressure on the world's biggest cryptocurrency exchange.
"The FSMA has therefore ordered Binance to cease, with immediate effect, offering or providing any and all such services in Belgium," it added in a statement.
France is also probing Binance, which has decided to quit the Dutch market because it had been unable to meet registration requirements to operate as a virtual asset service provider.
But closer to the end of the month, situation has changed drastically.  Binance itself has filed a claim against the SEC.   Besides, Binance and Binance.US entered an agreement with the U.S. Securities and Exchange Commission to ensure U.S. customer assets remain in the United States until a sweeping lawsuit filed this month by the SEC is resolved.
Even more, later some Senators and Congressmen have called for investigation and probes over G. Gensler and possible abuse of authority.  
So basic… #FireGary and de-politicize the world's biggest and best capital markets. This should be a unifying, nonpartisan plan to restore focus on the mission. Who will be the first Democrat to cosponsor? Tag someone.
Finally, IMF has changed its mind concerning cryptocurrencies ban, that previously was mentioned few times in different IMF reports. Now they tell – 
While a few countries have completely banned crypto assets given their risks, this approach may not be effective in the long run. The region should instead focus on addressing the drivers of crypto demand, including citizens' unmet digital payment needs, and on improving transparency, by recording crypto asset transactions in national statistics.
Very soon sentiment has changed drastically due to the BlackRock ETF file, which has provided most powerful boost to the market in recent couple of years probably. And, indeed, we could say that this could become an epic event, potentially if… file will be approved by the SEC.
The world's largest asset manager on June 15th, applied for the iShares Bitcoin Trust, according to a filing with the US Securities and Exchange Commission. Coinbase Global Inc., the biggest crypto exchange in the US, would act as custodian. The ETF, should it launch, would trade on Nasdaq. 
Bitcoin hit its highest level in a year amid renewed fervor for digital assets despite a slew of challenges for the industry.
The original digital currency crossed above $31,013, its 2023 peak, to reach its highest level since June 2022, Bloomberg data show. The token is up by almost 90% since the start of the year, though still more than 50% below an all-time high of almost $69,000. Other cryptocurrencies followed suit, with Ether also rallying.  
It's a remarkable development — and show of resiliency — for a market that many had written off as being on the verge of extinction following a number of high-profile and high-impact scams and company fallouts that left the industry besmirched among investors. 
"From the ardent Bitcoiner's perspective, the token's most fundamental investment thesis is playing out: inflation, monetary mismanagement, banking crises, sovereign debt anxiety, US-dollar-reserve-status questions are all playing a role in giving Bitcoiners an 'I told you so' moment," said Strahinja Savic, head of data and analytics at FRNT Financial. "I would not describe rallying to new all time highs despite the challenging environment, but rather because of it."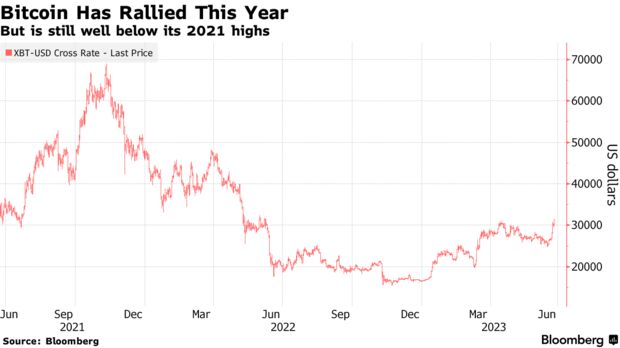 We think that it would be proper to start with the one piece of news  from the crypto world went unnoticed:
A new cryptocurrency exchange backed by firms such as Citadel Securities, Fidelity Digital Assets and Charles Schwab Corp. has launched and could change the landscape of the digital asset market amid increased U.S. control over the sector.
Because actually it puts the foundation for the whole logic of our view. The event itself is significant in that the creators of the exchange are the largest broker, the largest investment-pension firm with multi-trillion assets and the largest market maker. The creation of their own trading infrastructure by the largest players is another signal that the crypto is definitely not going anywhere. At least in the coming years, for sure, no matter how the SEC wants to drive out the ungodly Chinese Binance.
More precisely, even the fact that they want to drive out the Chinese stock exchange is another confirmation that the market is being redrawn in favor of their own. Recent IMF statement, concerning cryptocurrencies ban tells that this asset class will be with us for a long time, since the IMF proposes to include it in national statistics. This is the first point.
Second… Concerning Blackrock ETF.  Recall that a lot of people have already applied for ETF registration with the SEC. Both pure cryptians and giants like Fidelity Investments and all were denied registration under the pretext of "the asset is not protected from price manipulation," although futures ETFs were allowed several times.
BlackRock offers the new scheme. The custodian (type of depository) will be Coinbase, and the price will be taken from it to determine the value of the assets of the ETF and the BTCs will be bought on it.
I don't know if it has anything to do with hitting the head of the SEC Gensler, but if they do get permission, it will be a bomb. Let me remind you that all the BTCs on all spot exchanges are now only 777 thousand pieces. That is, by $20 billion.
If an ETF does appear, then 0.1% of all funds managed by Blackrock will be enough to take them from the market.
But it is also important that as soon as they are allowed to register an ETF, then everyone who was denied this before will stupidly submit similar applications and SEC will not be able to refuse them. So ETFs will start to grow like mushrooms after the rain.
In general, it is reasonable to suggest a price up, if by that time the acute phase of the crisis does not break out (!!!). And there they will already connect the media and tell why there will be a native and it is necessary to invest money in these funds.
If the information about FIdelity file will be confirmed, then they clearly know something, because it is mentioned that they want to copy the application submitted by Blackrock. 
If they really plan to submit a similar application to Blackrock, then this is either for luck, or they understand that the scheme proposed by Blackrock is wealthy and passable.
Third is – tighter Regulation… is it good or bad? Above we've head few opinions from JP Morgan, Micro Strategy that regulation is a good sign, that should open road for institutional money into cryptocurrencies. 
If the regulator seriously brings cryptocurrencies to the status of the securities, this will entail an audit, disclosure, showing beneficiaries, reporting, and so on. In 90% of cases it will turn out that the king is naked. That is why they "mercy" over the BTC and declared it not a security but a commodity.
In a word, the regulation of crypto exchanges will reduce their number by several times, and the recognition of cryptocurrencies as securities will blow away their value a little less than completely (as with NFT) and in addition will send their anonymity to the trash, by the way. Institutionals may come to the market, but most likely to mess up, or after the collapse. Remember the story of bitcoin futures – everyone was waiting for them to be introduced and the price would rise. But it fell. Institutional miracle has not happened. 
Based on recent J. Powell words concerning altcoins, we suspect that regulation should go on the way of altcoins' destruction and work for re-distribution of the money into big three – ETH, BTC, USDT and maybe 1-2 more. The big cryptocurrencies, in turn, will be put under control of limited amount of big ETF's from BlackRock, Fidelity and some others. New EDX exchange will play the dominant role in BTC pricing and provides technical background as depositary institute, market-maker and exchange.  SEC, Fed, CFTC are trying to make a circled market, throwing out all the others. Thus, Coinbase probably should stay while Binance is under significantly higher risk of closing. 
Regulation will only add the opportunity to buy spot BTCs, including ETFs with spot BTC. The creation of an ETF will reduce the number of free flowing BTCs traded on exchanges and create a deficit, which supports idea of the rally.
Reducing the number of crypto exchanges, will increase the level of regulation and concentration. Larger regulated exchanges – less scam. 
Everything sounds great, but… what would you said if plan stands absolutely different. For example:
SEC Sues Binance and CEO Zhao for Violating U.S. Securities Regulations"

June replenishment of TGA Treasury bills in the amount of more than $1 trillion, causing a liquidity shortage
 Launch of the Fed Now network in July

 Regulatory authorities increase the capital requirements of Banks by 20%

Reduction of the money supply M2
3 elements required to implement CBDC Digital  :
 Global dollar deficit

 Massive Insolvency Crisis

 Destruction of the Crypto Ecosystem
All recent events are fit to this scenario either. Yes, we have some deviation from this plan by US Treasury, as its borrowings are not as fast as it was announced, but still, everything goes with this way. 
And Big ETFs with new EDX exchange could mean total re-shaping and re-structuring of the crypto market, putting it under tight control of the SEC& Co by the hands of BlackRock, Fidelity and others. So we need to see first, the result of committee vote on a comprehensive bill to establish a regulatory framework for cryptocurrency products in the coming weeks.
The Binance destiny probably is a key to this riddle. It is 10-15 times bigger than FTX. The collapse will lead to the death of most crypto exchanges. The crypto market in 2022 was $2.5 trillion, and most of it is built on a leverage ratio of 10:1. It is few times larger than Lehman (600 Bln) or CDO market (400 Bln). 
As Gary Gensler recently said – 
We don't need more digital currencies… we already have a digital currency called the US dollar. For many centuries, it has never happened that the economy and the public needed more than 1 means of transferring value.
CONCLUSION
So, here is the riddle guys. And its beauty that it does not have direct answer by far. The process is just started and we're in the beginning of the way. Above we've shown you that things stand not as simple as everybody thinks – "if we get big spot ETF, then BTC goes to the moon".  But few things we could suggest with high degree of certainty:
BlackRock does nothing occasionally. Hence, its file should be approved by the SEC, which, in turn, should trigger emotional rally right after approvement;
In longer term ETF itself doesn't mean BTC rally, because institutional money have to go there. IT is not BlackRock will buy BTC from its own, but its clients. But now they do not do this. So, Initiating of ETF doesn't mean "to the moon" in longer term, after dust will settle. 
Long term US government plan about cryptocurrencies are not known by far. There are two major scenarios but it is too few information to say definitely which one is correct. No major juridical decisions are made yet, as well as any legal acts. Everything is still on a stage of discussion. 
In short-term, based on Glassnode analysis and our recent technical update, we consider 36-38K area as most probable target for mid term.  SEC has 240 days to make a decision on ETF, but hardly they will wait for so long.  As BlackRock has made the file – general decision is made. 
If all this stuff is a trap – it will be closed later, when big money already will be invested.  Now, based on Glassnode analysis, market is still thin, participation in rally is low. So, it is too early to clap the trap. Thus, it is relatively safe to buy in the beginning.  But overall situation is very tricky, and I would say dangerous, and with a lot of uncertainty. It is really big game around and somehow it is involved in US financial system, if now the major players are SEC, FED, CFTC and others. 
Author Profile
By day Sive Morten works for the large European bank. In that roll he evaluates the markets including currencies market managing bank risks and evaluating the bank portfolio.
At the Forex Peace Army, he is known as an author of Forex Military School, which quite unique free forex trading course. We do not know of any other free forex trading education covering such a broad spectrum of forex market concepts in such details while keeping it easy to understand and practically use.
As if that wasn't enough, he is the part of the Shoulders of Giants Program. He shares with his fellow traders at FPA his view and forcast of the Gold Market, Currency Market, and Crypto Market in form of weekly analytics and daily video updates.
*
Complete Forex Trading Course by Sive Morten >>
*
Sive Morten Forex , Gold , and Crypto Analysis >>
Info
450 Views
0 Comments